Nestled on the base of Wulao Mountain near sea, Nanputuo Temple is one of the most reputed Buddhist temples in Fujian, south China, and is also regarded as a site of practicing Buddhists for pilgrimage from Southeast Asia. Its construction began at the end of the Tang Dynasty and then during the Qing Dynasty, the temple was rebuilt; nowadays it has become an active and busy temple with chanting monks and worshippers lighting incense.
Its majestic multi-layered trapezoidal structure that overlooks the sea is very recognizable. Upon reaching the temple, tourists will be attracted by a huge lake with charming and fragrant lotus. Inside, there are many beautiful rock formations, old pine trees, structures that occupying a total area of 258 square kilometers. Highlights of the temple include the exquisite and grand palaces such as the Heaven King's Palace, the Grand Main Palace, the Merry Journey Palace, the Great Mercy Palace and the Buddhist Scriptures House in the central axial line from south to north. Each palace boasts beautiful, dignified beams and columns along with vivid statues.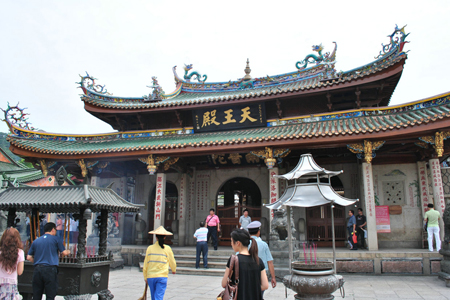 Here, tourists could see an excellent collection of inscriptions, including a Burmese jade carving of the Buddha, the stone inscriptions written by Chen Di and Sheng Yourong in the Wanli period of the Ming Dynasty and the one on a stone stele written by Emperor of the Kangxi period of the Qing Dynasty, all of them are very famous.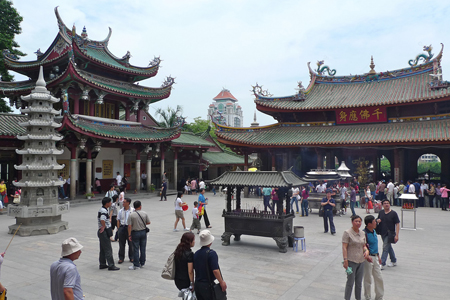 Behind the temple is a maze of stairs and pathways heading up to the mountain. It's worth to complete the steep where travellers will be immersed in panoramic views of the temple below, Xiamen University, the sea, and Jinmen Island surging in the distance. Apart from its imposing architecture, the temple also lure tourists with tempting vegetarian dishes.