Away from the vibrant city life and into the idyllic countryside daily routine! Explore the outskirt of this city with Nha Trang shore excursions for a glimpse into rural life of the locals. Indulge yourself at the end of the day with a mud bath and a hot mineral spring.
Start the Nha Trang shore excursion with a warm welcome from your tour guide and driver at the pickup point at Cau Da Port. Take a scenic ride to the outskirt of Nha Trang. You will see farmers working on the field, ancient pagodas, small school compounds, local markets and farms as well as traditional handicraft workshops; all of which have been familiar sentimental images for generations of Vietnamese people.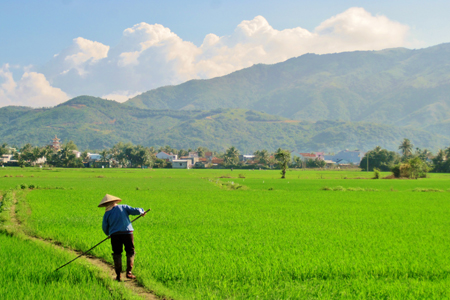 After a delicious local lunch, board a boat to cruise along the Cai River to witness the daily life of local people along the riverbank. Enjoy refreshing coconut juice at the Coco Island. As you're tired after a long day of tour, pamper yourself with a rejuvenating mud bath and a health-beneficial hot mineral spring in Thap Ba Hot Mineral Spring Centre. Head back to Cau Da Port as the sun begins to set in good time for your cruise departure. Trip ends.