Located in the western section of Hanoi, near Ho Chi Minh's Mausoleum, the One-Pillar Pagoda was originally built in 1049 during the reign of Emperor Ly Thai Tong of the Ly Dynasty. It is erected based on a single stone pillar crafted into the shape of a lotus blossom. In 1954, it was vandalized and burnt by the French. It was not until 1955 that the pagoda was recovered and has become one of Vietnam's most iconic temples.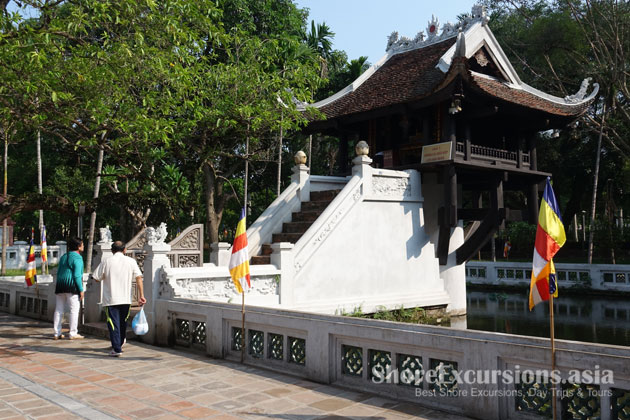 Legend has it that Emperor Ly Thai To, who had no children, had a dream that he was given a baby son resting on a lotus flower by the goddess. Months later, the Queen gave birth to a male child, the Emperor built the pagoda by only one pillar to resemble the lotus seat of his dream in the honour of the goddess. According to a theory, the pagoda was built in a style of a lotus rising from one pillar in the center of an elegantly square shaped lotus pond; besides, the pagoda also consists of many sculptures of lotus flowers. This unique shape of the pagoda together with the special story has been of great absorption to thousands of international tourists every year. However, today's structure can be just called the replica of the original pagoda as the concrete pillar that supports the wooden pagoda is a replacement for the initial one which was destroyed by the French.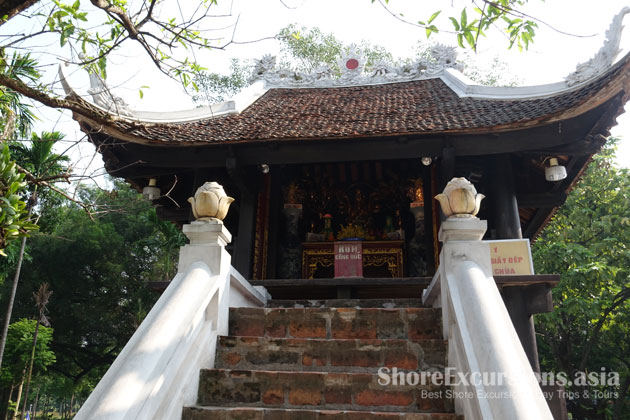 Among a large number of beauty-spots in Hanoi, the One-Pillar Pagoda is not only considered as a symbol for the city but a Buddhist symbol of purity as well. The pagoda boasts one of the most revered sights in a beautifully tranquil garden setting with benches created for comfortable contemplation. The shrine inside the pagoda is dedicated to the Vietnamese Buddhist deity Quan Am with her effigy nestled inside the tiny three square meters temple. Another point of interest is a bo tree that grows behind the pagoda which was given as a gift from India in 1958. Today the pagoda is not only a popular destination for childless couples but also place of miraculous healing powers. Especially, it is worth visiting this pagoda during the summer as the surrounding pond is filled with lotus blossoms.