Over 100 kilometers away toward the southeast of Manila, Pagsanjan Falls have been a popular attraction since Spanish Colonial Era. The incredibly natural beauty with bamboo rafting will definitely be interesting experiences for all tourists here. It you want to get away from the heat of Manila and cool off in fresh water, go straight to Pagsanjan Falls right now.
One the interesting fact is that the real name of this three-drop waterfall is Magdapio Falls. In fact, people keep call it Pagsanjan Falls due to its location, therefore, Pagsanjan Falls is well known for everyone. But actually, these falls are located in Cavinti boundaries, not Pagsanjan. The proposal to change the name into Cavinti Falls has been made, but it seems to have little impact on how Filipino calls it.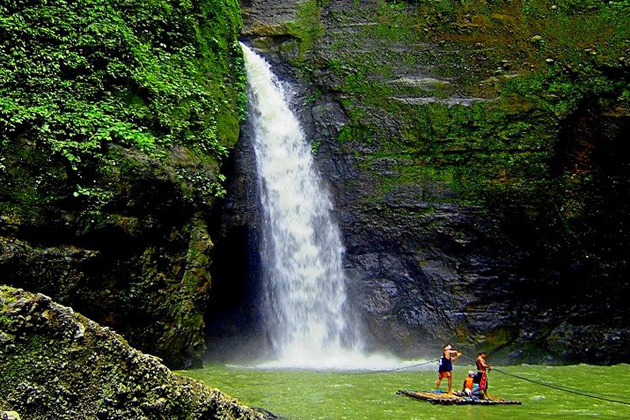 How to visit Pagsanjan Falls?
Since Pagsanjan Falls lies between Pagsanjan and Cavinti, visitors can either reach there by canoes from the town of Pagsanjan or a hike from Cavinti. The thrilling boat ride is more exciting for sure which you are taken to the fall on boat driven upstream through many rocks boulders by two skillful boatmen and gradually go deep into lush forest. This is also the most popular way for people to visit the falls. In contrast, Cavinti Route means you will enter Pueblo El Salvador Nature Park, take a hike to Pagsanjan Falls and also will be much cheaper than boating option in Pagsanjan.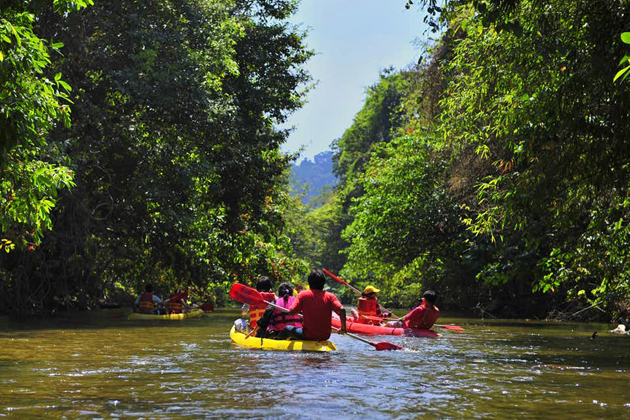 What to do in Pagsanjan Falls?
Finish you enjoyable canoe ride or adventurous hike, visitors will be amazed by the incredible beauty of Pagsanjan Falls with powerful waterflow, lush vegetation, and natural rock formations. On a bamboo raft, we are able to go up to, under and behind the fall in order to get a closer look at the God's gift. And it's time to get the natural back massage from the fall by the strong water flowing down to your back.
After receiving the back massage and going through Pagsanjan Falls, we reach Devil's Cave whose name is named after the shape of cave like a devil. On the way back, boating ride is no longer an upstream ride but the speedy downstream ride "Shooting the Rapid". Two skillful and licensed boatmen will lead to boat go through many narrow rocks. The wildness of nature is all revealed and tested in this trip.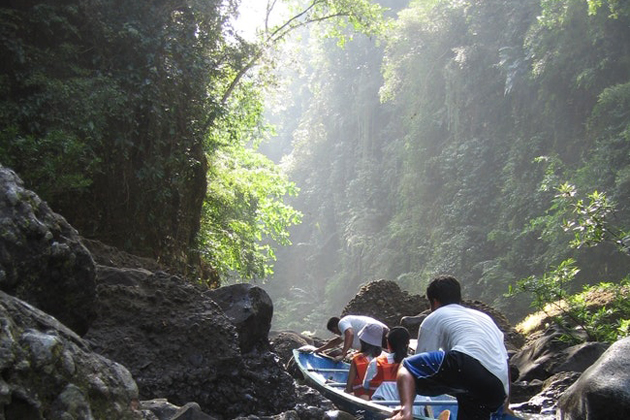 Legend of Pagsanjan Falls
Beside the adventurous and exciting moment in Pagsanjan Falls's journey, there is a legend aligned with the origin of the falls. For a very long time in the past, in this area, there is no falls but only highlands and two river named Bumbungan and Balanac, which are Pagsanjan nowadays. On the eastern bank of Bumbungan river, there are two brothers lived happily and peacefully with each other.
Oneday, a severe drought destroyed the whole sceneries, all kinds of animal died, trees and flowers faded. This disaster also affected two brothers, every day they prayed the Gods for rain but there was no rain. Therefore, the older brother, Balubad, had passed away due to thirsty. The younger brother, Magdapio, was deepened in sorrow. With the desire to survive, Magdapio trekked to the upper region with the hope to find some water but there was no water, either. In desperation, he yelled out and angrily threw his bid cane to the rocks. Suddenly, water came out and quickly became bigger and stronger. Magdapio drank water as much as he could and was so grateful and thanked to the God. Pagsanjan Falls has been created with the welcome of all people and exists until nowadays.
When should I visit?
In order to get the best experiences in boat riding and crafting, the best time to visit Pagsanjan Falls is in the wet season around from May to October. With the higher water level, the ride through many rocky stones will be much easier. Especially for the natural back massage, the wet season enable tourist to enjoy the massage in the fullest way. But remember don't go there in heavily rainy day, it's dangerous.