Quan Cong Temple, also known as Ong Pagoda, sits at 24 Nguyen Hue street in Hoi An. Erected in 1653 in honor of revered Chinese general Quan Cong who represents justice and integrity, the temple was constructed by the Chinese immigrants together with Vietnamese.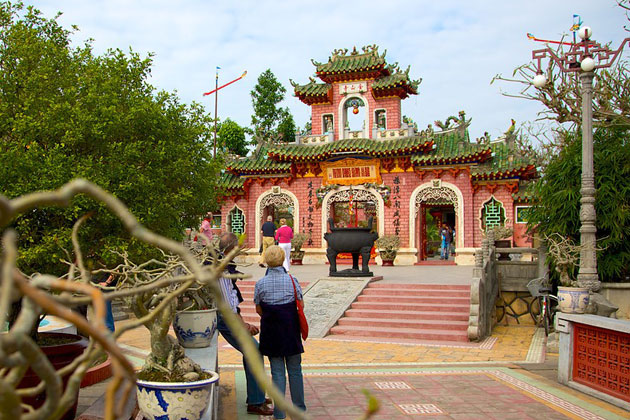 This temple is dotted with elaborate statues and artwork. Its majestic entrance of red and gold is impressive. Quan Cong is a Chinese symbol for prestige, strong, loyal, and sincerity and is still worshipped today. The temple was recognized as a "National Historic and Cultural Site" on 29 November 1991. The name "Ong Pagoda" comes from the connection between Quan Cong Temple and the temple behind, called "Ba Pagoda". The Ba Pagoda is dedicated to the Bodhisattva Quan Am. It also currently houses a small museum of Hoian history.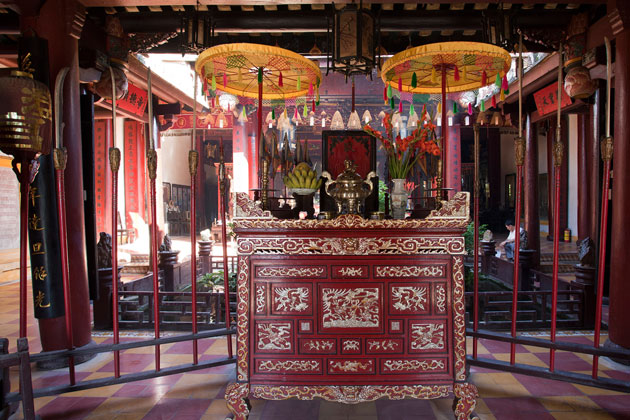 Being an emblem of ancient architectural constructions, Quan Cong temple consists of four buildings, a vestibule, two blocks of houses in the east and west, a large main hall. All buildings are decorated elaborately with dragon and carp motifs. The carp is a symbol of patience in Chinese mythology and is popular in Hoi An. Inside the main hall, Quan Cong statue made of paper pulp on a wooden frame, partially gilded, and is on the central altar. On the left of Quan Cong is a statue of Chau Thuong, one of his guardians. On the right is Quan Binh statue. And two life-sized horse statues ridden by Quan Cong. These statues were artifacts delicate and vivid. Both these attractive specimens of architecture deserve the appreciation of the visitors. The Quan Cong temple festival is held twice a year according to the lunar calendar: the birthday of the genie (on 13 of the first lunar month) and the death anniversary of the genie (on 24 of the sixth lunar month). These festivals attract a lot of believers and pilgrims throughout the country.