Hop on Bangkok shore excursions, people usually come to Grand Palace, Wat Arun, and a lot of religious and cultural sites. However, these places are too popular that you can see many crowds there. Escaping from the bustling city center to welcome a strange experience, take a visit to Safari World – a unique zoo that is one of a kind in the world. Safari World provides a huge space for hundreds of animal species can freely roam and live with others without territorial disputing.
Overview of Safari World
Opened for the public in 1988, the zoo consists of two distinct areas: the Zoo and the Marine Park. The zoo part has the total 660 acres divided into the open zoo where wildlife animals living in, and the bird park which dozens of bird species living peacefully with others. Right to the name, Marine Park is the place where you can admire the undersea life with many exciting animal shows. Moreover, Safari World has a plenty of food stalls and souvenir shops along the way you stroll in case visitors want to take a rest or pick up some idyllic items to bring home.
Safari World Zoo
The Safari World Zoo is a wonderful place to take 45 minutes to explore in any Bangkok shore trip with the total length is around eight kilometers. The open zoo is home to various herbivores species even the endangered ones such as rhinos, antelopes, zebras, giraffes, camels, and so on. Then, head to the bird park where a great number of big birds including flamingos, pelicans, and nightmarish marabou storks. You can drive through the zoo with animals surround following the park's rules including drive slowly, keep the quiet atmosphere, do not honk, arbitrarily feed the animals, and step out of the car. In case you want to feed them, there is a platform where you can freely feed bananas for the tall-friendly giraffes.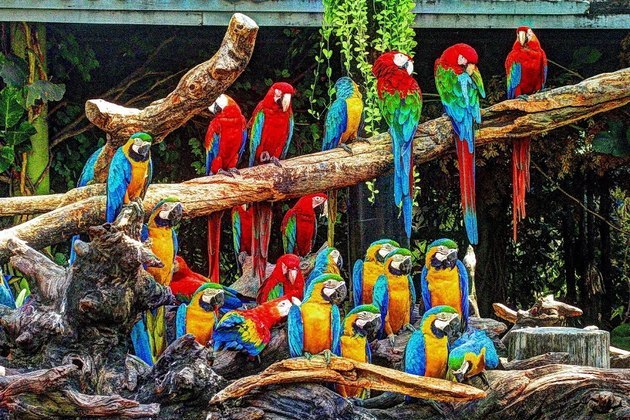 For more thrilling experiences, the time you pass through a massive metal gate, your Bangkok shore excursions are extra of exciting feelings. The entrance gate leads to Jurassic Park where you have to raise your alert by closing all windows of the car before entering the predator area. Although animals here are well fed and peacefully living with other species, they seem like want to play with visitor's hearts by climbing to the top of your car, showing their bared tooth, and rolling in the grassland until they approach your car. You cannot move your eyes from bathing tigers (wonderfully they love bathing too much), lazy lions, and burdensome Himalayan black bears.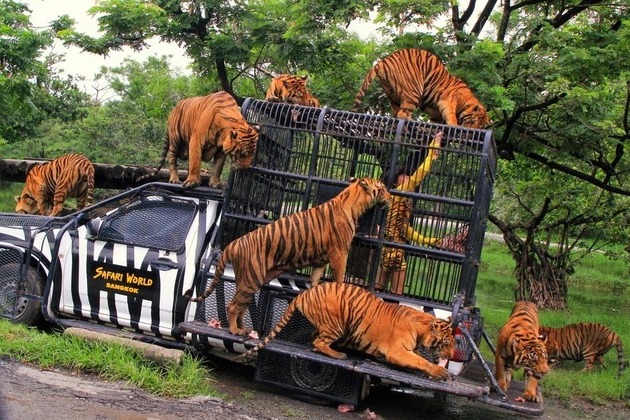 The best time to visit Safari World Zoo is in the morning when food is served and animals step out of their lazy routine. However, the zoo's operators always sure that you are safe. If you have car troubles, all you need to do is honking, waiting for staffs, and do not step out. Every case of facing animals is not acceptable and seems like the worst idea due to the size of the smallest tiger is twice bigger than you!
Marine World
The Bangkok day trips don't stop in this. Take a visit to the Marine World to discover the undersea life. This part is not only a simple zoo anymore, it also provides no less than seven animal performances such as dolphin, elephant, sea lion shows. The less popular attraction is the 'Egg World' where displays a great collection of different animal spec's eggs. Moreover, the western cowboy show called 'Spy War' is an interesting performance following Hollywood style.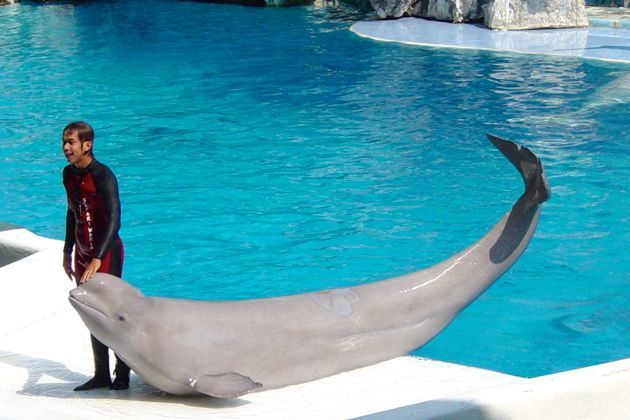 Safari World in Bangkok definitely brings unforgettable experiences for both adults and children. A day trip to the zoo is a great idea to stay away from the city and gather your family together.