Established about 700,000 to 800,000 years ago, Sanbangsan Mountain is a lava mountain resulting from violent volcanic activity. The name Sanbangsan refers to "cave inside a mountain". The cave is located about 150 meters above sea level and can be accessed by climbing a series of 470 stone steps.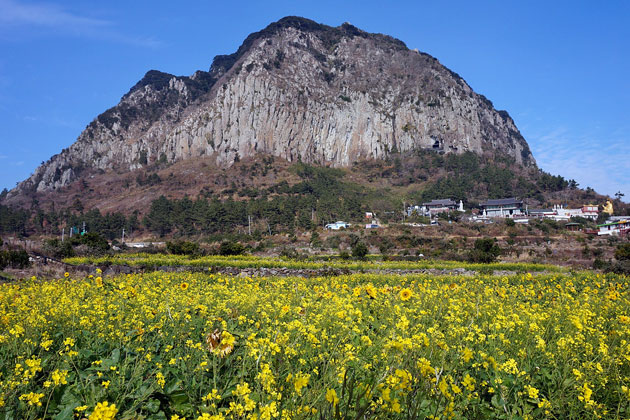 At the entrance to the mountain are the Sanbangsa Temple and the Bomunsa Temple that hold relics of Buddha. Stroll along the stone-steps between the two temples and you will discover the Sanbanggulsa Grotto. A signal beacon called 'Yeondae' in Korean stands at the roadside in front of the mountain, which, in the past, used to fire and smoke to relay urgent messages. During the daytime, smoke was used to send warning signals, while fire was used at night. Outside the two temples lies the huge gold statue of Buddha rising more than two stories high. It provides an imposing presence guarding the sacred mountain.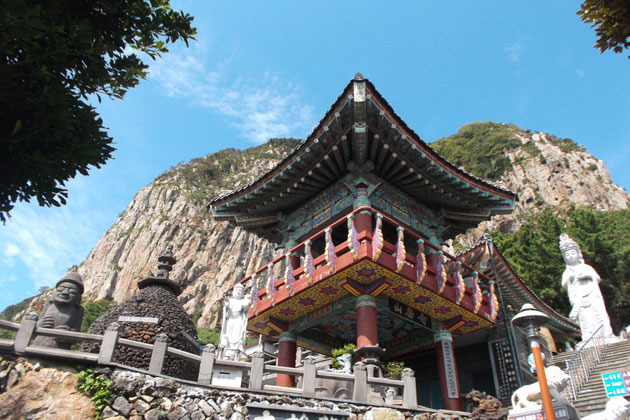 Especially, the cave inside the mountain offers a spectacular view out over the ocean. It is quite a steep climb up but there are rest stops for you to catch a breath.The effort to climb these steep steps are rewarded by scenic views of Marado Island and Yongmeori coast. Due to its close location to the sea and its high elevation, the peak is often ringed with clouds. The upper slopes of the mountain have their own distinct climatic conditions and are protected for their value for botanical research.