The Seongsan Sunrise Peak, located off the eastern section of Jeju island, is the first area to greet each day's new sun. As it offers sunrise scenes and is shaped like a castle, the name Seongsan Sunrise Peak is created.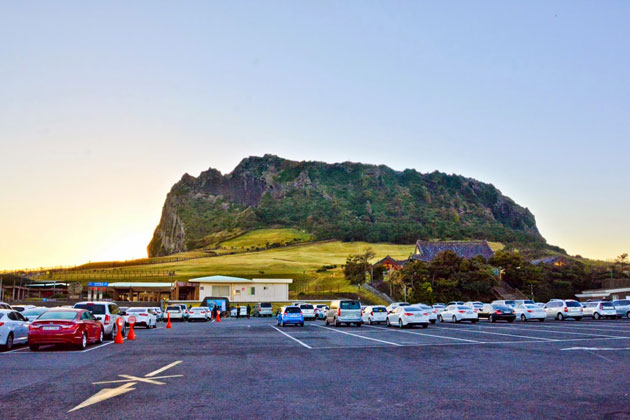 The peak which rose from under the sea in a volcanic eruption over 100,000 years ago is about 600 meters in diameter and 90 meters in height. It looks like a gigantic crown and is considered the peak's main characteristic where people can admire the volcanic features of the island. Sedimentary strata revealed and eroded by waves also provide a spectacular scenery. Especially, it is truly a sight to behold the Seongsan Sunrise Peak in the spring when it is surrounded by bright yellow colored rapeseed flowers.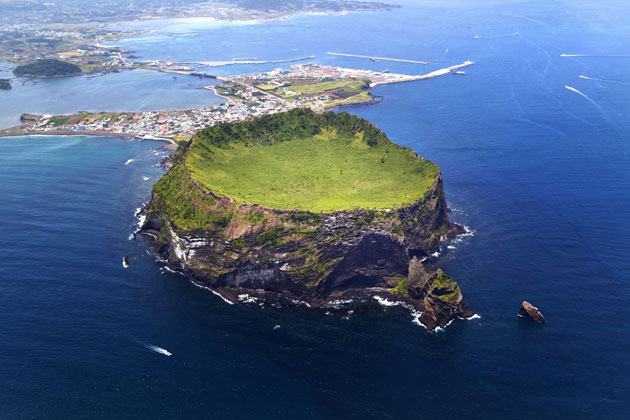 Seongsan Sunrise Peak is a perfect destination for those who would like to relax and enjoy the wonderful view created by nature, wind, water and fire. They may release their everyday troubles into the ocean wind while sitting on the observation deck. When descending from the peak, their steps would get lighter. The downhill stairways are divided into two directions. To the left, they can ride a Jeju pony (Jorangmal). To the right, they may see an ocean decorated with black basalt rock and famous female divers (Haenyeo) who collect various kinds of shellfish under the waves.
Seongsan Sunrise Peak was designated as a natural monument in 2000. Although a wide range of hydromagmatic volcanoes exist similar to Seongsan Sunrise Peak, but no other ones have a well-preserved tuff cone and diverse internal structures along a sea cliff. Due to these scientific values and stunning scenery, UNESCO recognized Seongsan Sunrise Peak as a World Natural Heritage site in 2007.