Located in Seogwipo-si, Jeju, Songaksan Mountain, also known as 99 Bong (99 Peaks), is a parasitic volcano playing a crucial part in the geological formation of Jeju island.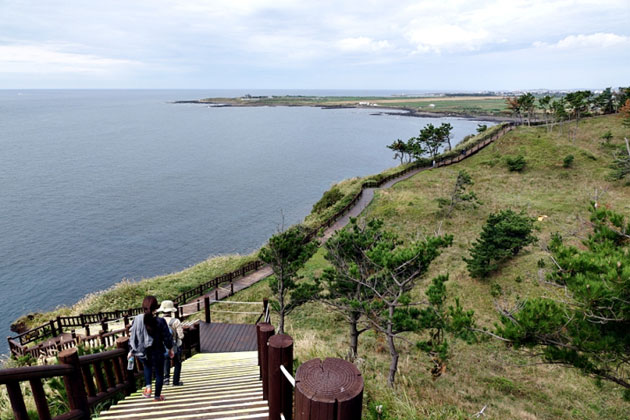 Songaksan Mountain has its main peak rising 104 meters above sea level. Though not as enormous as Hallasan Mountain, the view from the peak of Songaksan is truly scenic. From the summit, one can see nearby islands such as Marado, Gapado, and Hyeongjeseom, and as far as Hallasan Mountain and the Pacific Ocean. Songaksan Mountain is an ideal destination to have a long and refreshing walk. Near the mountain, there is a trail, which is said to be a part of the Olle trail. This trail leads you around the cliff and to the crater, where you can see the overview of the island. It is recommended to walk to the end of the trail to grasp the entire stunning scenery. Also, as Songaksan Mountain is close to the ocean, this place is better to visit when it's less windy.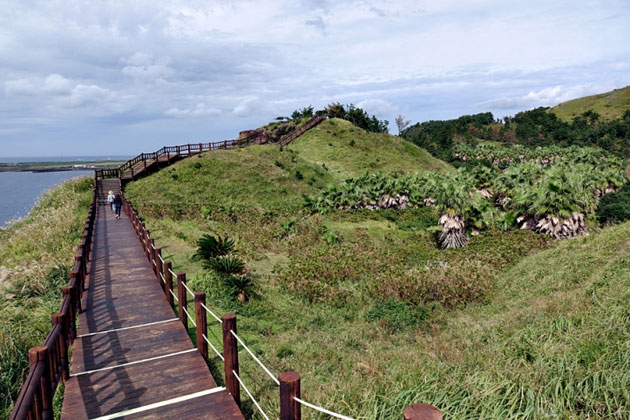 Songaksan Mountain has a double crater which is about 500 meters in diameter, 1.7 kilometers in circumference, and 80 meters in depth. The second crater is inside the first crater, and it is 400 meters in diameter and 67 meters in circumference with some blackish volcanic ash still remain. Looking along the jagged coastline, visitors can explore the large man-made caves built during the Japanese occupation. Additionally, the seashore at the base of Songaksan Mountain is a famous fishing ground in which an incredible variety of fish such as sawedged perch and black porgy are caught.