Pendent sitting on top of Singuttara Hill, the splendid Shwedagon Pagoda is Yangon's most famous landmark. With the height of 99 meters, the massive pagoda is visible from everywhere in the city. Also known as the Golden Pagoda and the most sacred site in Myanmar, Shwedagon Pagoda enshrines sacred relics of the Gautama Buddha as well as the three previous Buddhas. For Burmese, the image of pagoda is the symbol of beauty, serenity and sacredness.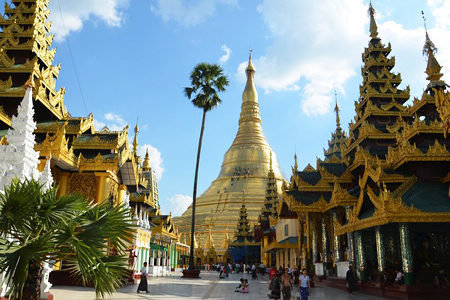 Featured gold and more than 4000 diamonds, 2000 rubies sapphires and other gems, the more-than-2,500 years old pagoda is the complex of 65 stupas. As the dusk falls, the pagoda shrines. Upon entering the pagoda, tourists will see the best of Burma's architecture such as the Naungdawgyi Pagoda, the Bell Pavilion, the Arakanese Prayer Pavilion,…There are also hundreds spinning wheel, bright marble floors and four main entrances walkways.
As the most pilgrimage in Burma, Shwedagon Pagoda is heavily visited by devotees every day. Absolutely it will spark your wanderlust.