Upon arrival at the Phu Quoc cruise port,  you will be welcomed by our guide and then trace back to the past when heading to Phu Quoc Prison, the outstanding historical sites in Phu Quoc. It has been used during Vietnam War to immure Northern political prisoners of Vietnam.
Next, we are about to visit a farm growing pearl, the typical souvenir in Phu Quoc and suitable for buying as a gift for your friends and families. You can directly observe the process of growing pearl and see how they harvest pearl and turn it into refined product.
Afterwards, we will head to Sao beach which is one of the most beautiful beaches in Phu Quoc for relaxing. Tourists will have a chance to swim in crystal-clear water and enjoy a delicious meal at lunch with the freshest seafood caught from the sea.
Our next destination is Ham Ninh fishing village to observe fisherman's daily tasks and jobs and then a few minutes later on the car, we will stop by Tranh Springs and enjoy the gifts of nature by trekking through the surrounding forest.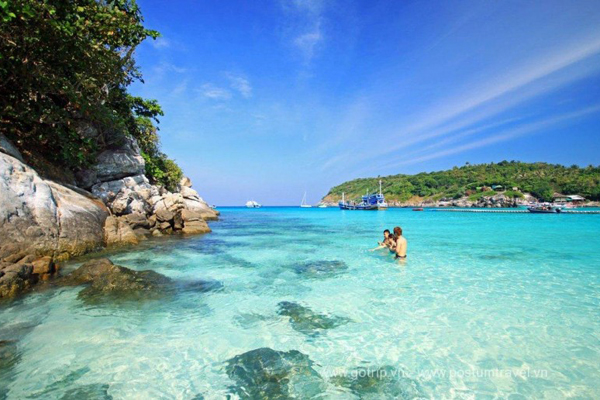 Before our tour comes to an end, tourist will have opportunity to take a look at two other local products in Phu Quoc: Sim Wine and Black Pepper. A Sim Wine factory on the way will be arrived first in order to have certain knowledge about Sim Wine Making-process. And then the car will drop you at black pepper farm where you can learn how to grow and harvest pepper or have a beautiful shoot in the farm. Both Sim Wine and Black pepper are suitable for giving and worth for trying.
Come back to Phu Quoc Port. Tour ends.