Whilst seting foot in Hoi An, tourists will be lost themselves in the cluster of "old houses", so, don't forget to visit Tan Ky old house – even it's not the oldest, it is the best preserved one.
Constructed almost two centuries ago by a Vietnamese merchant family, Tan Ky old house is situated at 101 Nguyen Thai Hoc Street. This gem of a house has been lovingly kept through seven generation, form its interior design and old furniture, to the walls decorated with a unique mosaic, a lot of artifacts dating back from the late 17 century. It covers a truly Chinese-Fukkein design with a dark timber facade, quaint doorway and inner-courtyard and Chinese carvings as the yin-yang symbols and intricate birds. Besides, tourists will also find the influence of Japanese architecture including the ceiling, carvings of crossed sabres wrapped in silk ribbon bearing the meaning of force and flexibility.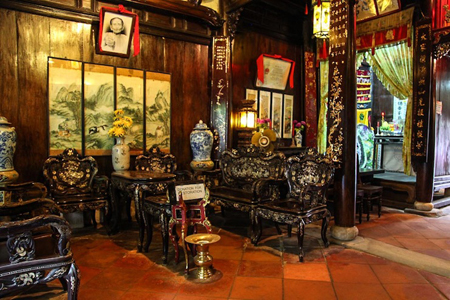 The interior is highlighted by a beautiful detail: Chinese poems written in mother-of-pearl are hanging from a number of the columns that hold up the roof. It is noted that these panels are 150 years old adorned with Chinese carvings forming birds which are depicted in various positions of flight. The Tan Ky old house has four small rooms which is jam-packed with a wide range of beautiful antiques. Most of them were made of wood. Each room served for one purpose: welcoming hall, living room, bedroom and the courtyard.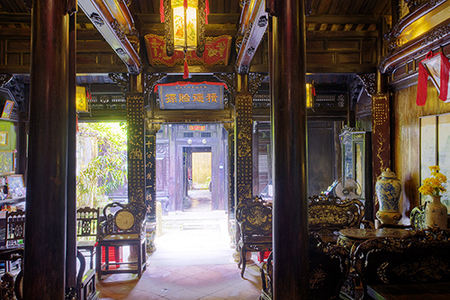 Rarely but still be found is the evidence of the unique blending of European culture in in the courtyard of the House – the carved wooden balcony. A usual thing is that the balcony is decorated with lovely grape leaves.
The back door overlooks the river, which was used for loading and unloading goods in the past.
A new insight into the beauty of Hoi An is ready to wow you.