Was built on the original ground of Edo Castle, just a short drive from Tokyo Port which you arrived for Tokyo shore excursions, the current Imperial Palace Garden now becomes a large park opened for public going picnic and hanami – cherry blossoms watching in spring. Due to the important role of serving as the residence for Japanese Royal Family, the Imperial Palace is surrounded by moats and gargantuan stone walls.
History of Tokyo Imperial Palace
Edo Castle was formerly the home of Tokugawa shogun ruling Japan for over 250 years from 1603 until 1867. The year after when the shogunate was overthrown, the capital of Japan was moved from Kyoto to Tokyo, so did the Imperial Residence. It's not until 1888 that the new Imperial Palace finished its construction. Although being heavily destroyed in the World War II, the palace was quickly reconstructed following the same architectural style.
Attractions in Tokyo Imperial Palace
Nowadays, the Royal Family still lives in the Imperial Palace. That's the reason why the inner grounds are not opened to the public. However, visitors can get a glimpse of the palace from the outside with many beautiful attractions. From the huge plaza Kokyo Gaien, you can admire the two bridges Nijubashi, one is made of stone called Meganebashi means Eyeglass Bridge in English due to its looks, one is the wooden bridge named Nijubashi meaning Double Bridge due to its two levels. The bridges serve as the entrance to enter the palace ground.
The inner palace grounds are not totally closed. If you want to enter the ground, we recommend hopping on Tokyo shore excursions arriving in important events including New Year Greeting on January 2nd and the Emperor's Birthday on December 23rd annually, visitors can admire the Royal Family members when they appear on the balcony.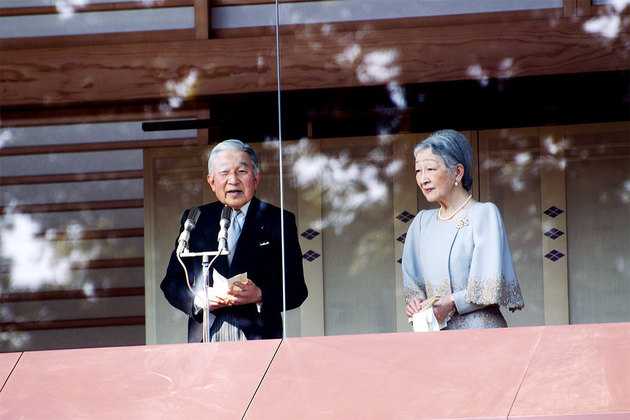 In spring, the view over Imperial Palace East Gardens is breathtaking with lines of beautiful cherry blossoms. Local people usually bring bentos and meal sets to enjoy picnic time when hanami. The peaceful atmosphere can lure you away. What a great place to forget every bustle thing out there!