Have you ever imagined about a lunch right in front of a waterfall? Then make up your mind and visit Villa Escudero, a perfect getaway from all the boring historical sites and tiring travel. This resort has a lot to offer with so many other activities: Carabao-drawn Cart Ride, Villa Escudero Memorial Museum, Bamboo Rarting in Labasin Lake, Cultural Show Every Friday, Saturday and Sunday, etc.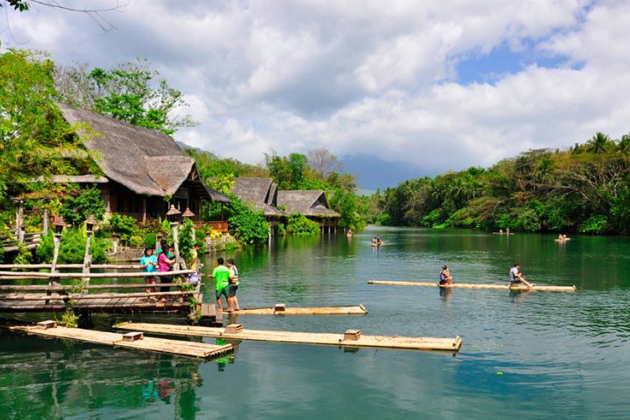 After two and a half hours spending on the car, you will receive a warm welcome from the receptionist. In the past, this area is a coconut plantation and had been turned into a villa in 1981. Nowadays, this place is famous for peaceful sceneries, beautiful plantation and interesting activities. All guests are welcomed by a carabao-drawn cart ride which will take you around the villa to enjoy the surrounding sceneries and to relax after a long ride. Carabao is actually a swamp-type domestic water buffalo which is seen frequently in South East Asia and in Philippines; it is a native animal to locals. Carabao is gentle and usually nice; therefore, your ride will be pleasant and full of enjoyment.
During the time going around every corner of Villa Escudero, you might encounter the pinky Villa Escudero's Memorial Museum where presents the collections from local travel to around the world. These collections are the private property of Escudero Family who are a well-known family in Quezon and also the owner of the villa. The collection is diversified in many fields such as: religion, culture, history. If you are a big fan of history, this pinky museum is a must in your travel list.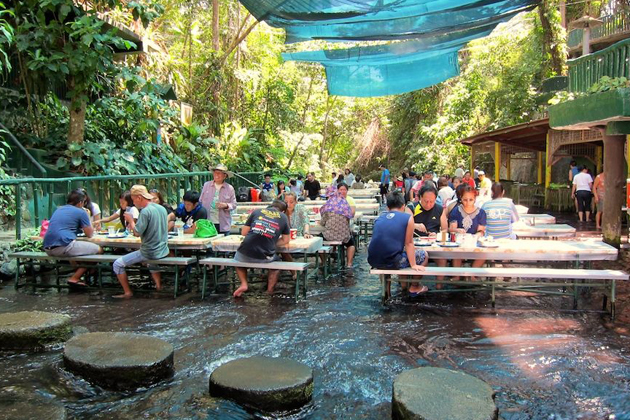 The most unique feature that makes Villa Escudero outstanding from many other resorts in Philippines must be the lunch by the water fall. Although this is a man-made waterfall but enjoying your meal by the water is still so exciting. All the heat in Philippines is wiped away immediately and here comes the pleasure during your lunch. A buffet lunch with local appetizers, local salads, local meat, local vegetables dishes is the best reflection of Filipino Cuisine. Enjoying Filipino Cuisine while your feet immerse in water surely is a unique and unforgettable experience for everyone. After finishing you lunch, they can lie down in the water fall and relax.
The trip will not be completed without Bamboo Rafting in Labasin Lake. It seems to be a challenge for starter but contains bunch of fun. Whether you can make it or not, the reward is a chance to discover the beauty of Labasin Lake and falling in love with it. Bamboo Rafting is not the end in Villa Escudero, moreover, every Friday, Saturday and Sunday, the villa also offers Cultural Show for who have a wish to experience Filipino culture through dance, music and story. Make sure that you won't miss it.