Situated in the very center of Hanoi, West Lake is the largest freshwater lake of the Red River delta with a perimeter of 17 km. It is home to a wealth of historic sites encompassing Vietnam's oldest pagoda and one of Vietnam's four sacred temples. The lake attracts millions of locals and international visitors looking for respite from the bustling city, offering a sanctuary of great natural beauty with a large number of tranquil spots bordering the lake.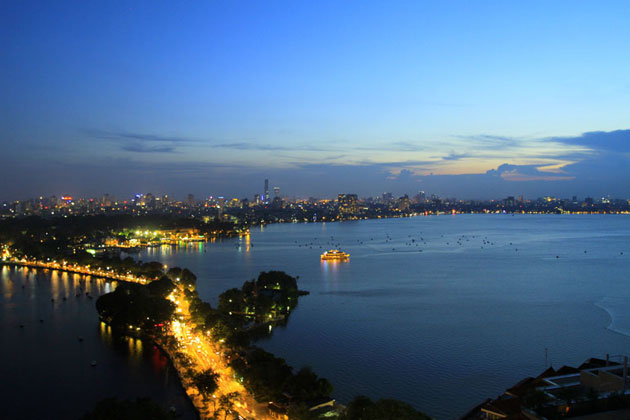 Legend has it that the lake that was created when the Dragon King Lac Long Quan drowned a wicked fox spirit with nine tails in his lair. An alternative folklore source claims the lake was formed when a large Chinese buffalo mistakenly confused a pagoda temple bell with its mothers call and ran so fiercely into a small hollow that the lake was formed. In fact, however, the lake was made when the Red River changed its course. Points of interest for history buffs are the Tran Quoc Pagoda, and the Quan Thanh Temple. Tran Quoc Pagoda resides on a small island built by King Ly Nam De as a cultural symbol of Vietnamese Buddhism. It is particularly beautiful at sunset. Another must-go attraction is Quan Thanh Temple located at the West Lake crossroads of Thanh Nien Street and Quan Thanh Street. It is one of the Vietnam's ancient Four Sacred Temples built during the reign of King Ly Thai To from 1010 to 1028. The temple features detailed wood carvings of sacred animals, trees and flowers in its structure. Locals often head to Quan Thanh Temple to pray for health, luck and happiness.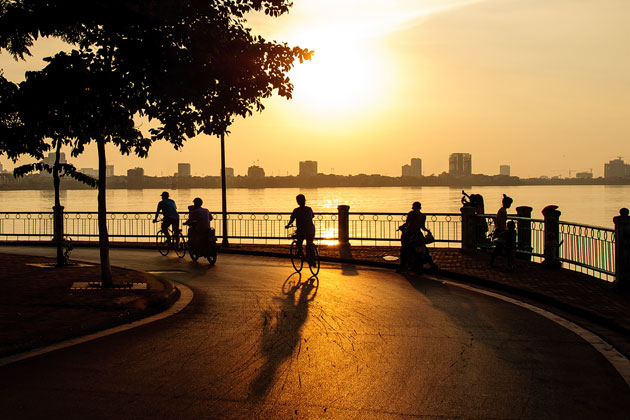 In the past, West Lake was a group of fishing villages on the northern outskirts of Hanoi. Both locals and international visitors rarely ventured out here. However, today the lake is packed with a host of stunning architectural gems and sizeable lush gardens along with several entertainment venues, high-end hotels and villas. Take a shore excursion or dine on a floating restaurant brings you memorable moments. The area to the south tip of West Lake is an ideal destination for seafood bites with a whole street of seafood restaurants available to choose from.