Your tour starts in the morning with pickup from your guide and driver, followed by a ride to Yuhuangding Park. A vast green area, the park houses the impressive Jade Emperor Temple. Take a leisurely walk to enjoy views of beautifully manicured lawns and exotic flowers.
Continue towards the northern part of the city to visit Yantai Hill Park, where you'll see its famous Lighthouse. Standing at the height of 53m, the Lighthouse offers magnificent panoramic views of the sea and mountains. Visit other highlights of the park including the Revolutionary Martyrs' Cenopath, Stone Boat, Relang Pavilion, Guanhai Pavilion, and Water King Temple.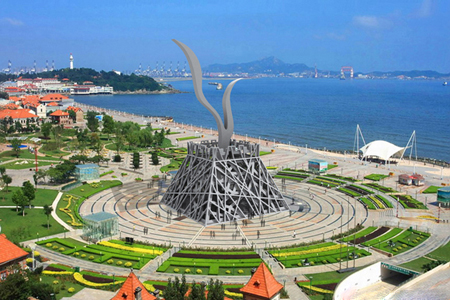 Next, head to Changyu Wine Museum where you'll learn about the history of the namesake winery spanning from the 18th to the 21st century. View a comprehensive display of photos and videos documenting the origins and growth of Changyu wine. Visit its underground wine cellar, the first of its kind in Asia, and sample a variety of wine available at the bar. Afterwards, enjoy your free shopping time before returning to the port for your cruise departure. Trip ends.