Located along the north coast of Taiwan in the town of Wanli between Taipei and Keelung, Yehliu National Geopark is renowned for its fascinating rock formations composed of a mixed sedimentary sandstone and shale sculpted by the wind and water, the 1,700 meter long coast is one of the most famous wonders in the world.
Yehliu National Geopark can be divided into three areas. The first area consists of mushroom rock and ginger rock. You may learn the development process of mushroom rock as well as witness the appearance of ginger rock, cleavage, pothole and melting erosion panel. On top of that, the famous candle shaped rock and the ice cream rock are presented in this area too.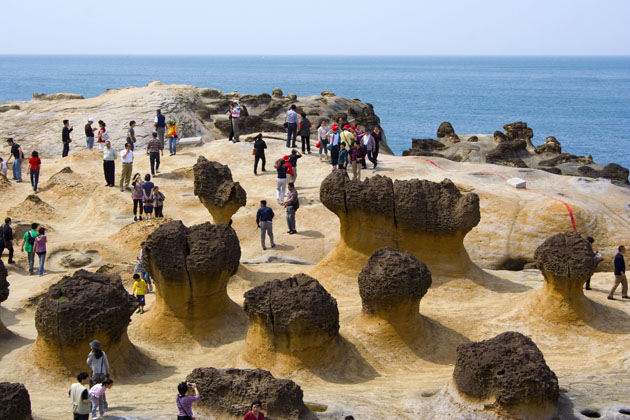 The second area is similar to the first area, where the mushroom rock and the ginger rock are the main focuses, only they are fewer in numbers. Since the area is near the coast, rocks that develop into four different kinds of formations can be seen in this area. The aforementioned are parts of the layers featuring special shapes as a result of being corroded by sea water.
The third area is the wave-cut platform located on the other side of Yehliu. This area is much narrower than the second area; one side of the platform is closely adjacent to steep cliffs while down below the other side is a scene of torrent waves. Several rocks of grotesque shapes and sizes that are incarnated as a result of sea erosion can be seen in this area, including the 24-filial piety hill, pearl rock and Marine Bird Rock. The third area also includes the major ecology reserve of Yehliu National Geopark in addition to the rock landscapes.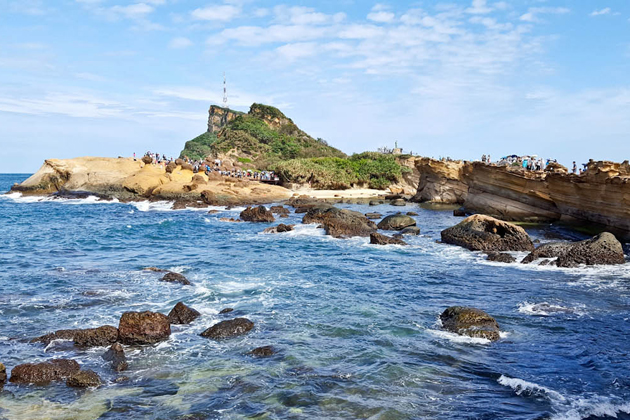 Yehliu National Geopark is home to a number of unique geological formations including the "Queen's Head". This iconic image, located along a cape stretching out from Wanli, is an unofficial emblem of the town. Besides the Queen's Head, other remarkable formations include Sea Candles, Fairy Shoe, Ginger Rocks, Elephant Rock, Ice Cream Rock and Kissing Rock.