Experience the best of Jeju Island with an expert guide in the comfort of an air-conditioned vehicle. Discover its major highlights including Hallim Park, Seolbong Park, Spirited Garden and Cheonjiyeon Falls. Have fun with illusion paintings in Trick Art Museum, visit the Seongeup Folk Village for insights into Jeju heritage, as well as explore two UNESCO World Heritage Sites namely Seongsan Sunrise Peak and Manjanggul Cave.
Day 1: Hallim Park – Seolbong Park – Cheonjiyeon Falls (L, D)
After pickup from Jeju port by your private guide and driver, get comfortable in an air-conditioned vehicle for a ride to Hallim Park. See a variety of yearlong gardens including Subtropical Botanic Garden, Bonsai Garden, Palm Tree Road, Wild Grass & Flower Garden, and especially visit the only two-dimensional caves in the world (a cave that has another cave inside) – Hyeopjaegul and Ssangyonggul Caves.
Continue to Seolbong Park and follow the footpath around a central wide lake, taking in the idyllic scenery. Later, attend a ceramic class by an expert instructor at the Ceramic Experience Hall.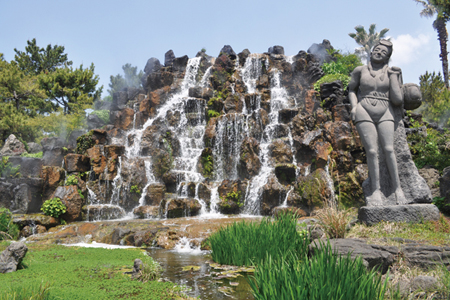 Next up is the Spirited Garden, which is claimed by many as one of the most beautiful gardens in the world. An ideal venue for relaxation and meditation, the garden features an array of beautiful bonsai trees, serene fishponds, and waterfalls. Complete the day tour with a visit to Cheonjiyeon Waterfall, one of three most famous waterfalls on Jeju Island. Enjoy freshly caught seafood for dinner in a local restaurant. Overnight accommodation in Jeju.
Day 2: Trick Art Museum – Seongeup Folk Village – Seongsan Sunrise Peak – Manjanggul Lava Tube (B, L)
After breakfast, your guide will pick you up from the hotel and bring you to the Trick Art Museum in Seogwipo City. With 7 zones of exhibitions, the museum offers you myriad opportunities to snap some amusing shots with illusion art paintings.
Continue onto the Seongeup Folk Village to get a first-hand experience of Korean traditional lifestyle and culture. Discover its treasure, from the physical structures, such as old living houses, large millstones, fortress remains, Confucian temples, to intangible heritage including cuisine, craftsmanship, local dialect, and folk plays.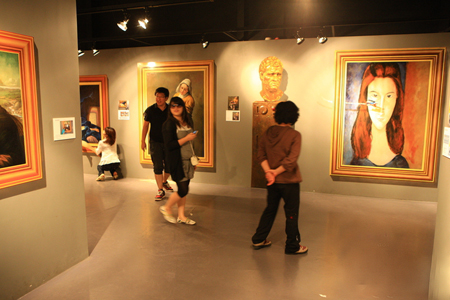 Next up is the UNESCO-recognized Natural Heritage Site, Seongsan Ilchulbong Peak (or Sunrise Peak), a dramatic volcanic cone formed about 5,000 years ago. With 99 rocky spires lining the crater, it looks like a crown from afar. While the north and southeast sides of Sunrise Peak are characterized by striking cliffs, the northwest slope is covered in green, especially yellow rapeseed flowers in spring. Then visit Manjanggul Cave, one of the best lava tunnels in the world featuring 70cm stalagmites and many rare animals including bats. As the sun begins to set, return to the port in good time for your cruise departure. Trip ends.