Explore the most attractive island of Korea – Jeju, experience the fresh air and strong winds while setting a foot on the beautiful sandy beach, visit the unique heritages created by nature, and have a savory lunch of seasonal local food.
Your guide and driver will pick you up at the port to begin your Jeju trip. Take a drive along the Eorimok trails, view the wildlife-infested forest on the foot of Mount Halla. However, from the middle of December to March, because of heavy snow on the trails, you will drive toward the Yongdam coastal road and visit an unmanned café.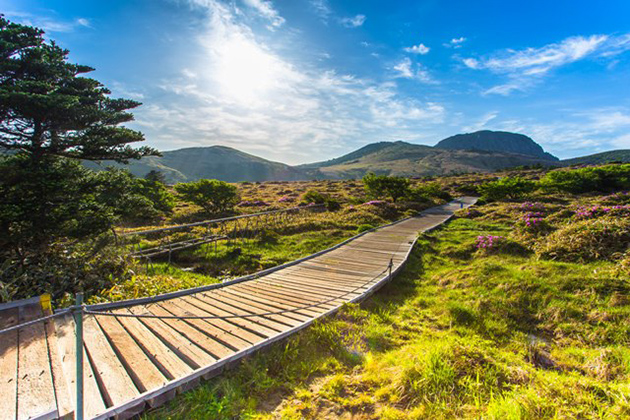 When arriving Olle trekking which you can visit the Yakchen Temple famous for the 5-meter-height of Vairocana statue. The walls covered by several images of Buddha protect the Buddhist monks inside. In front of the main hall stands a Giant 18-ton-weight Bell.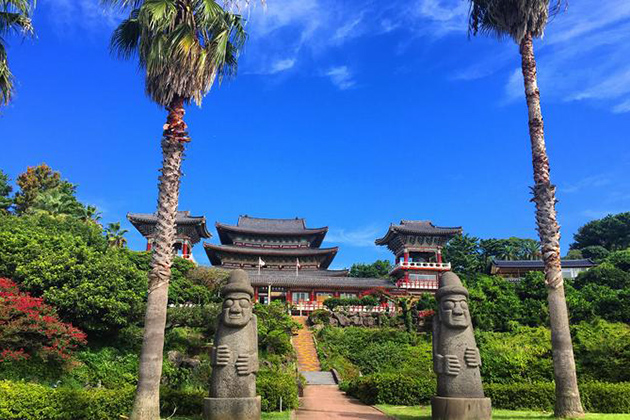 After a delicious lunch, you head to Jusangjeollidae known as the Seaside Cliff located at the end of the forest of pine. The cliff is made of stone pillars created by the hot liquid lava of volcano Hallasan Mountain turning cold due to the effect of water sea. These stone pillars have the shapes of several skyscrapers standing side by side, combined with the white foam from the high waves crashing to the rocks together create a marvelous scenery.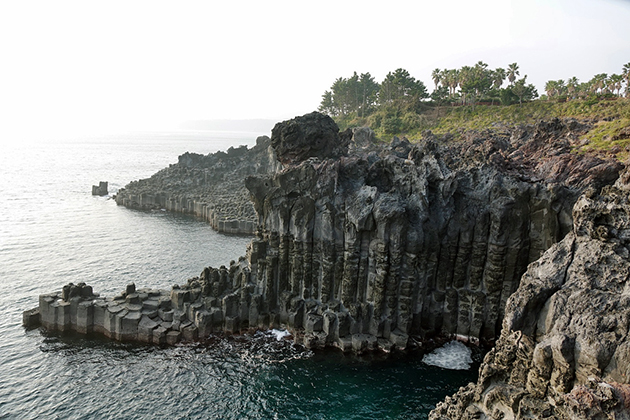 Then, visit the Dragon Head Shore or Yongduam by locals. Created by winds and waves over thousands of years, the stone has the special shape of a dragon head up to the sky. There are many myths about it. For example, a dragon stole the precious jade and was shot by an arrow, the body is deep into the sea and the head is sticky to the land. Another story is that a white horse was caught and turned into rocks when ascending to the sky to become a dragon.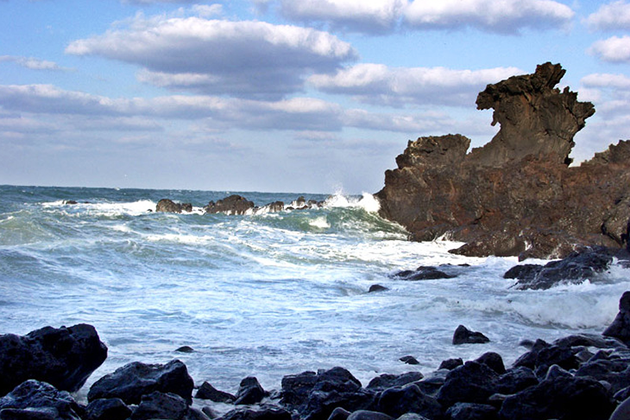 Jeju has its especially nutritious and sweet tangerines which only can be collected from November to January. However, visitors who come during February and October will visit the Spirited Garden which is home to hundreds of bonsai plants located in the wasteland of a farmer. You can admire the numerous of facilities such as stone walls and towers near the volcanic stones and man-made waterfalls.
Your Jeju shore excursion completes with a visit to Mysterious Road, then back to Jeju port.