From vast green tea plantations and beautifully landscaped bonsai gardens to the stunning sight of striking mountains and dramatic cliffs, experience Jeju's amazing natural splendors on this guided private day trip to the West and South of the island. Your savvy guide will provide informative and insightful narrative about the attractions you visit.
Meet your private guide and driver upon pickup from the Jeju port. Travel along the Mysterious Road (or Dokkaebi Road) to O'Sulloc Green Tea Museum for fantastic views of sweeping nokcha (green tea) plantations. Housed within the museum are impressive displays on ancient tea implements dating back from the 3rd century. Feel free to browse for its products, sample green tea with a slice of green-tea cake or green-tea ice cream.
After that, head to Spirited Garden, which is claimed by many as one of the most beautiful gardens in the world. An ideal venue for relaxation and meditation, the garden features an array of beautiful bonsai trees, serene fishponds, and waterfalls.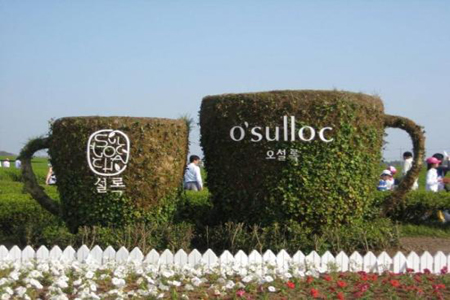 You'll be served Jeju delights for lunch before visiting Songarksan Mountain (or 99 Peaks). There, enjoy fantastic views of the ocean, Hyeongjeseom, Gapado, and even Hallasan Mountain located in central Jeju on clear days. Trek along Songarksan footpath to admire the island's distinct rugged coastline and explore some man-made caves along the way. Continue onto Sanbangsan Mountain, which was formed by the volcanic eruption from approximately 800,000 years ago. Sitting at the foot of the mountain are two temples, namely Sanbangsa and Bomunsa, and a grotto in between. Complete the trip with a visit to Jusangjeolli cliff, which consists of the cube or hexagon-shaped stone pillars of various sizes. As the sun begins to set, return to the port for your cruise departure. Trip ends.