Top Myanmar Shore Excursions, Day Tours & Trips for Cruise Ship Passengers
Min-ga-la-ba!
Located in the westernmost part of Southeast Asia, Myanmar shore excursions lead to the land bordered with Andaman Sea and the Bay of Bengal in the southwest, Bangladesh and India in the southwest, Laos, and Thailand in the southeast and China in the northeast. Myanmar plays an important role in economic development when situated in a strategic location near major Indian Ocean Shipping lanes. This country remains one of the most mysterious and undiscovered places in the world where all the traditional values from culture, beliefs, architecture, and cuisine of Asia can be found in Myanmar shore excursions.
This mysterious land exposes travelers to the untouched, raw beauty of the snow-capped mountains, beautiful lakes, mighty rivers, lush tropical forests, unspoiled beaches, and archipelagoes. Myanmar shore excursions enchant every visitor with its rich and vibrant cultural tradition, friendly people to magnificent temple architecture.
Asia Shore Excursions has tailor-made an array of optional Myanmar shore excursions for cruise ship passengers stop at any important ports in Myanmar. If you do not find any suitable Myanmar day tours, please contact us to tailor-make a unique Myanmar shore excursion that exclusively for you.
---
Things to Do & See in Myanmar Shore Excursions
Myanmar shore excursions present the Golden Land famous for its rich cultural history and natural resources. The country had the up-and-down history of empires and military dictatorships, and now it becomes a wonderful tourist destination. Once stepping into this unique country, you can be breathtaking with the pristine culture and sacred atmosphere.
Watch the sunrise over the city - 
Bagan shore excursions
The most wonderful sight in Bagan does not belong to any man-made structure, it is the sight when sunrise over the city. Even the laziest people have to wake up early to catch the chance of tasting this wonderful experience, especially watching over millions of temples and pagodas.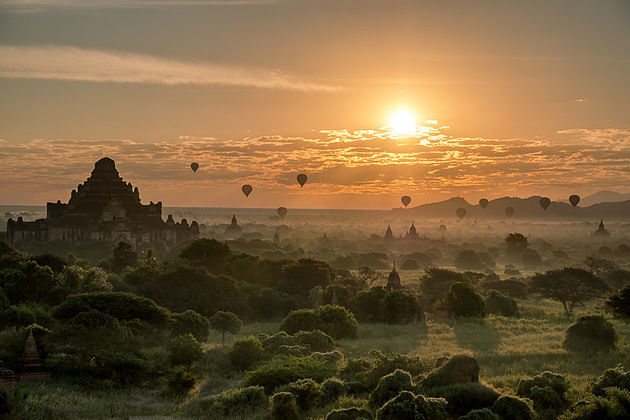 On the top of the temple, admire the sun as a giant fireball in bright red combined with a little orange shimmering up from the skyline far away from your vision. Inside the lush green forest under the clear sky full of pure white clouds, the gold pagoda adorned with thousands of diamonds and jewelry is stunning with garish sunshine. The sunrise in Bagan catches your breath, then every cellule of your body suddenly awakens.
You can claim to explore all the Bagan without a hot-air balloon ride. Don't go back home with that regret. This experience can be the best thing you have done in not only Bagan but in your whole life. While flying in an airplane, the feeling is like sitting in a closed room. But flying in a balloon, the feeling is like doing a magic from the height of meters above the grounds. Enjoy the winds blowing through your hair, sunshine jumping in your skins, and majestic sights filling your eyes.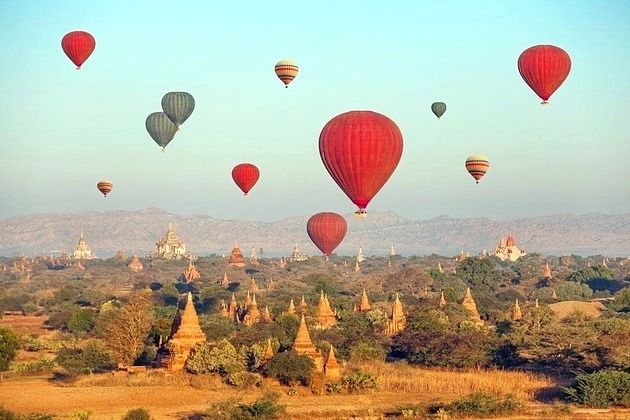 However, the weather and climate in Bagan provide a short time to ballooning, usually running from mid-October to mid-March. The balloon only can fly when the winds are calm and the air is cool. That's why the ride can be canceled right before your flight some minutes.
Stroll through Chinatown - Yangon shore excursions
The Chinatown is the busiest and most vibrant place in Yangon. Due to the pervasion of other culture into Myanmar, Chinatown was created for those who live a different lifestyle. Mingle with the locals and tourists alike and walk through row after row of shops, restaurants and food stalls with its giant colorful signboards fighting for your attention.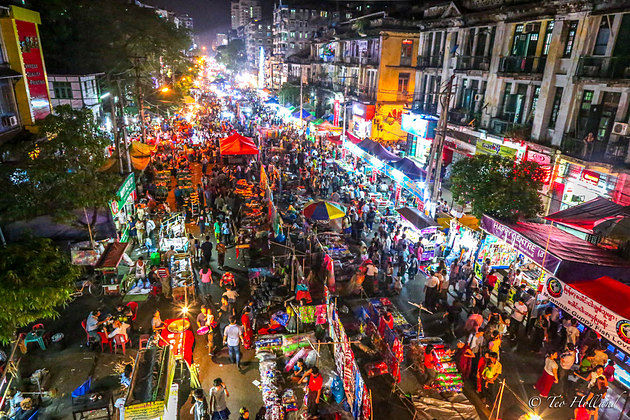 Chinatown is the paradise for foodaholics where you can find lines after lines of charcoal grills, sorts of meats, vegetables, and marinades from food stalls or barbecue restaurants.
Visit the Shwedagon Pagoda - Yangon shore excursions
On the top of the hill, Shwedagon Pagoda stands as a 99-meters masterpiece on the high land of Myanmar. The pagoda is the most popular attractions in this city. With Burmese, the pagoda is the symbol of beauty, sacredness, and serenity which dedicates for the Gautama Buddha and the three previous Buddhas.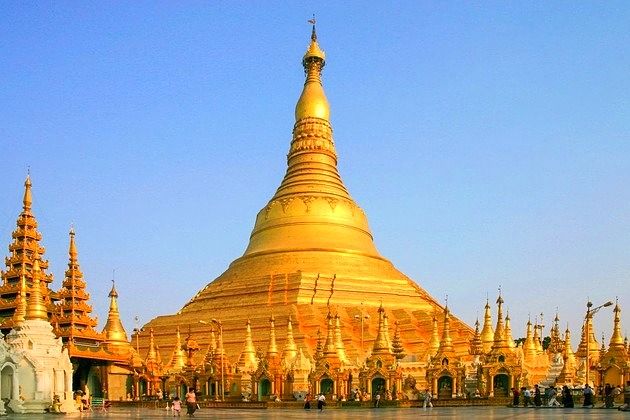 Start from the foot of the hill, trekking on a long entrance stairway to the main terrace, passing by numerous bustling markets, sacred worships, and monasteries. Learn about the daily life of local dwellers in the immediate vicinity and Burmese Buddhism by chatting with the monks. If your physician doesn't allow you to climb, elevators and escalators are always available. Be breathtaking at the glittering marbled main terrace featured gold and thousands of diamonds and jewelry.
Hike Mount Popa - Bagan shore excursions
777 steps to the top of Mount Popa is worth an effort to stand on the best time for any sunrise and sunset chasing adventure. Was formerly an extinct volcano, the mount now becomes an iconic sight of Myanmar shore excursions with the sacred monastery, golden stupas, and the panoramic view of the whole city. Set off a date with Popa on a sunny day waking up early in the morning.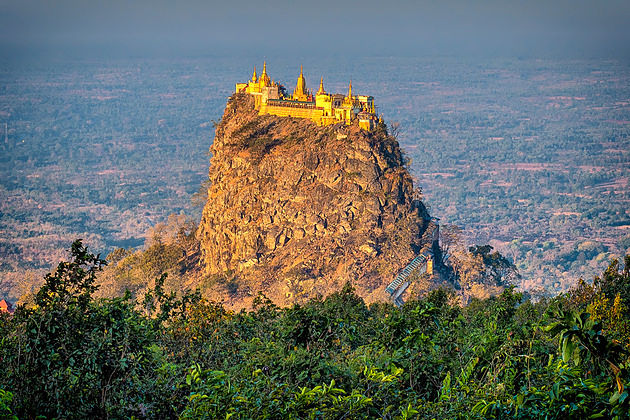 Mount Popa is an important religious site in Myanmar shore excursions with Buddhist spirits worshiped by the Burmese. Due to the sacred atmosphere here, vests, shorts, hats, bags, and even shoes are all prohibited. You may seem that is ridiculous and strict but no, these rules protect visitors from the local monkey around. When you are climbing, try not to catch the attention of these guys because they are everywhere sneaking to steal food and drink.
Chaukhtatgyi Buddha Temple - Yangon shore excursions
This temple – famous for the marvelous 217-foot reclining Buddha under the large metal roof – is one of the largest and most stunning ones in Myanmar shore excursions. The Buddha with the eyes made from glass is wearing the priceless crown decorated with various diamonds and jewelry. Under the foot, there are a plenty of religious symbols carved in which are all typical for Buddhism.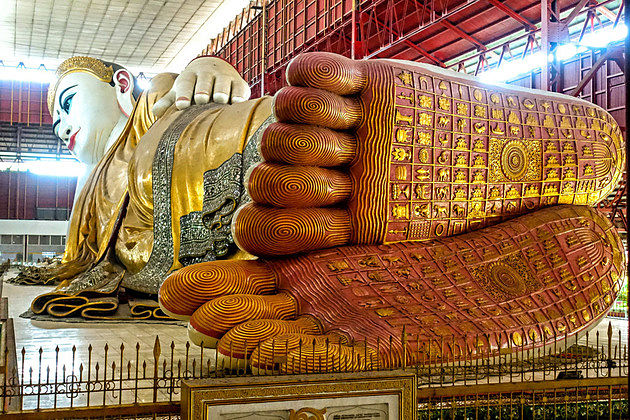 Nearby, standing the small shrine dedicated to Ma Thay – the holy man said that can stop rain and bless safety for sailors. Moreover, inside the campus of the temple is the Shweminwon Sasana Yeiktha Meditation Centre where you can admire local people gather to meditate.
Explore the local markets - Everywhere in Myanmar
Going home with two empty hands is not a good idea if you want to have something to remind about this fantastic shore trip. Everywhere in the land of Myanmar, you can find a local market which has the rich amount of goods.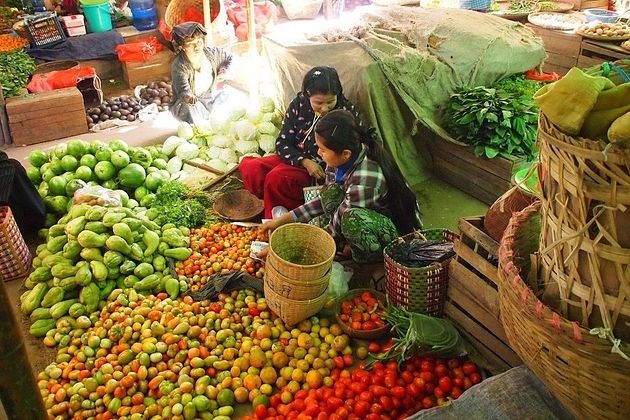 Stroll along the market, enjoy the bustling atmosphere, and learn about the daily life of Burmese. Pick up some souvenirs such as paintings, lacquer wares, jewelry, and puppets for your children, friends, or colleagues. Taste some traditional Myanmar cuisine to wake your sense up after a long trip.
Best Time to Visit Myanmar
For overall, Myanmar shore excursions can be enjoyed all year round with the featured tropical climate. However, there are some months in the year being better than others, for example, if you visit the country in July, the chance you catch heavy rainfall is higher than in December. Some places such as Ngapali Beach are even closed due to inaccessible roads caused by flood and erosion. The best time to visit Myanmar from November to February when the weather is cool, summer has not visited, and the rain has just left. This is the perfect time to enjoy a walk around with cool breeze blowing. March to May is the summertime with extremely hot temperature, especially in Bagan and Mandalay. The rest time of the year, from June to October, is the rainy season when the country is dominated by the heavy rainfall leading to dirt and slipping roads.
Myanmar Weather by Regions
Best time to visit Yangon
Yangon is one of the most popular destinations, also is the biggest city in Myanmar. The best time to visit Yangon shore excursions is from November to April when the weather is cool and lack of rain. Yangon does not experience the hot temperature as Mandalay or Burma with the average temperature is 24°C. The weather is likely the same as Bagan with high humidity. If you want to hop on a Yangon sightseeing day tour, early morning and sunset is the most suitable time.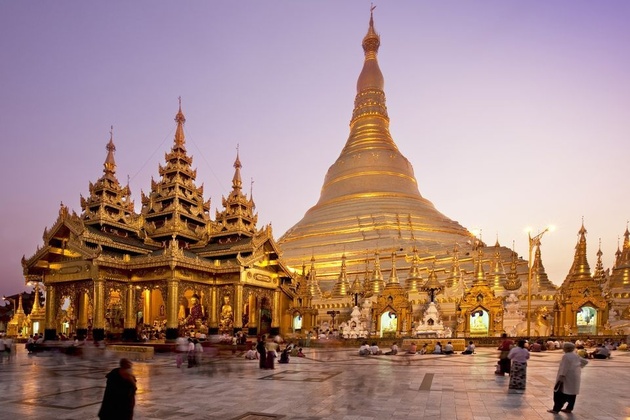 Best time to visit Bagan
The heaven of ancient temples and pagodas can be best visited from December to February. Three months later is the peak of heat that the temperature sometimes becomes unbearable. Bagan sightseeing tour can be a nightmare when you walk around from temple to temple. You should avoid these months or visit the religious sites in the early morning and during sunset.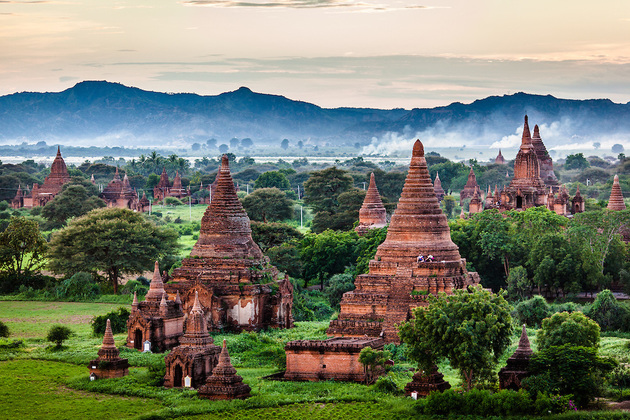 Best time to visit Mandalay
The close location of Mandalay and Bagan causing the same weather conditions. The temperature is quite hot even in the cool season. In the peak of the rain season, the region only experiences averagely 9 rainy days. The best time to visit Mandalay to avoid the heat is from November to January with the average temperature is around 27°C. From February to April is the rainy season which is also recommended because the rain can blow the heat away.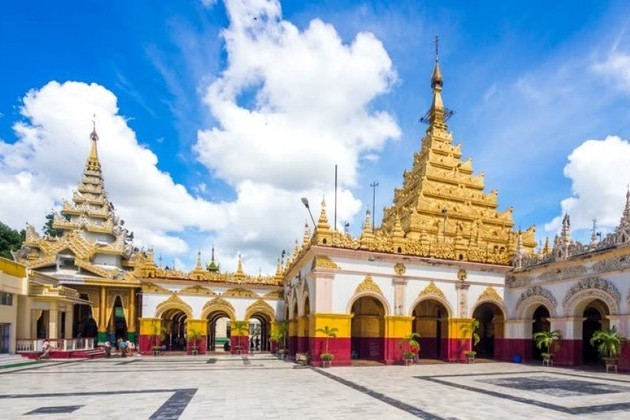 Best time to visit Inle Lake
Famous for the splendor scenery when hopping on a small boat sightseeing along the lake. The temperature in the region of Inle Lake is milder and cooler than the rest of the country. Even in the peak of summertime, the temperature is around 30°C. At night during the cool season running from December to February, it can drop to 10°C. A light jacket is highly recommended.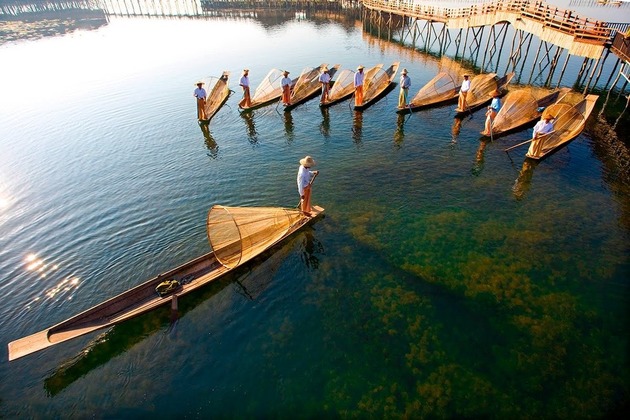 Myanmar Weather by Months
Myanmar in November to February — cool season
The time from November to February is the best time to visit Myanmar shore excursions. The weather during daytime is warm and dry ranging around 30°C in most popular destinations in Myanmar including Yangon, Mandalay, Inle Lake, Bagan, and Ngapali Beach. Temperatures are not oppressed leading to the perfect condition for taking a sightseeing tour around hundreds of temples and pagodas, especially in sunset and sunrise. This is the peak time of tourism that the price is also raised. More flights and hotels are opened across Myanmar. Moreover, the services such as Ngapali beaches and hot-air balloon over Bagan are also available.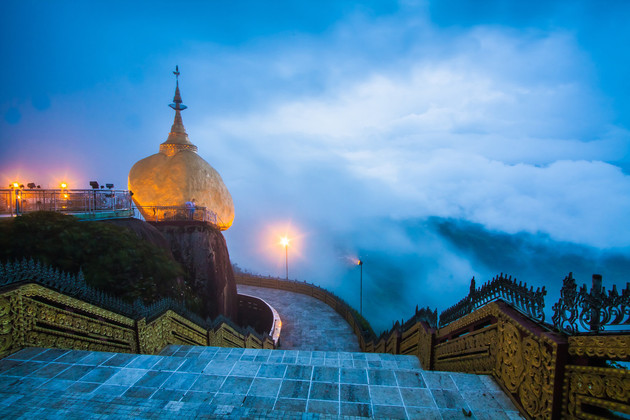 Myanmar in March to May — hot season
The peak of summer lasting from March to May bringing the unbearable weather with most visitors coming from cold countries. The temperature can reach over 40°C by the end of March. The humidity is low throughout the country. Summertime is not a suitable time to enjoy Myanmar shore excursions. However, if you are keen on visiting this country, Inle Lake is the best place that the temperature is much cooler than other areas. However, the traveling cost is cheaper than the rest time of the year.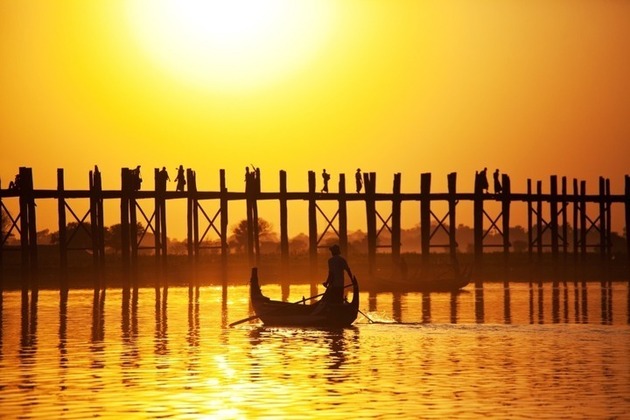 Myanmar in June to October — rainy season
From June to October is the time when southeast monsoon starts bringing rainfalls to the whole country. The rain blows the heat away with average temperatures is 30°C. Ngabali Beach is completely closed due to heavy rain causing inaccessible roads. The hot-air balloon over Bagan is also not operated. The places you can enjoy shore excursions are Yangon, Mandalay, Inle Lake, and Bagan. The price for traveling during this time is the lowest throughout the year.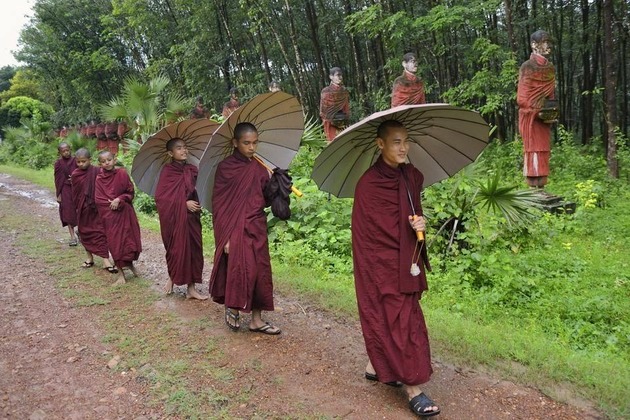 Myanmar General Information
Population:
52.89 Million
Capital City:
Naypyidaw
People:
Bamar, Shan, Karen, Rakhine, Mon, and others
Language:
Burmese
Currency:
Kyat (MMK)
International Dialing Code:
+95
Time Zone:
GMT +6:30 Hours
Religions:
Theravada Buddhism, Christianity, Islam, Hinduism, Mahayana Buddhism, Vajrayana Buddhism, and Animism.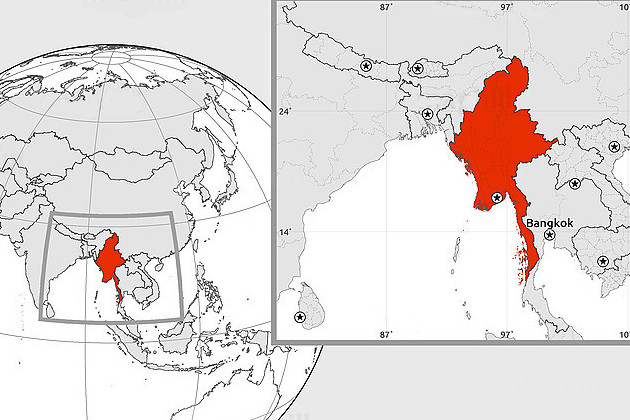 Passport & Visa to Myanmar
Visitors coming to Myanmar must hold passports which are valid for six months from the departure date. There are some countries can get the visa exemption to Myanmar for tourism and business staying from 14 to 30 days depending on the foreign policy of each country. For example, citizens from Hong Kong, Singapore, Macao, Japan, and South Korea can get visa exemption to Myanmar for 30 days, while Vietnam, Thailand (for airway only), Indonesia, Laos, etc. can stay in Myanmar for 14 days. Chinese people hold normal passports can apply for a visa on arrival at Naypyidaw Airport, Yangon International Airport, and Mandalay International Airport which is valid for 30 days. Citizens from other countries can obtain eVisa or visa required to visit Myanmar.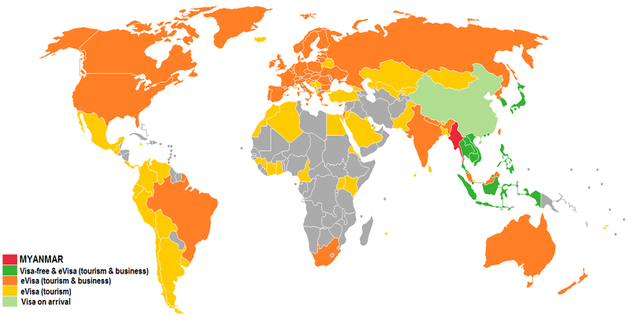 Myanmar People, Culture & Customs
The exclusive right of traveling to other countries is experiencing a completely new culture. To gain an exciting Myanmar shore excursion, the best way is making friends with locals. To adapt to the unique Myanmar culture, try to be a good guest by respecting their customs and practices. Although Burmese people are commonly friendly and quite easy to forgive visitors who are not intimately familiar with their customs, you will get a more sympathetic look if you follow their culture.
Things to note when visiting Myanmar
Don't ever shout or abuse anyone although you are extremely annoyed or angry, try to calm down and be polite as much as possible. Burmese people are really kind and likely to have a peaceful social instead of a competitive one. The loud sound such as conflict and shouting is considered rude and will receive a negative look. In this country, people always consider other feelings before doing anything to avoid making others embarrass and disconcert.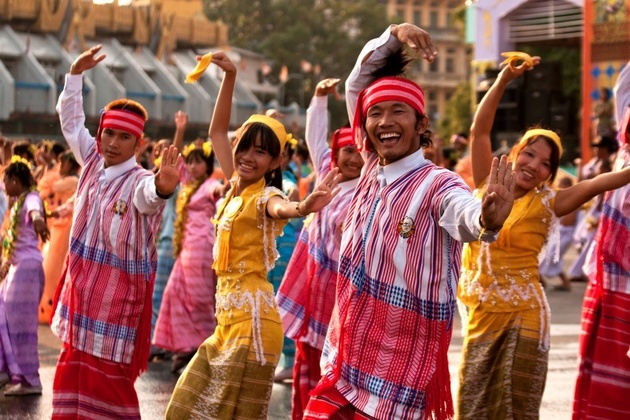 If you don't want to be entangled in trouble, you should never point anything or anyone with your feet. It's an extremely rude behavior. Besides, avoid touching other's heads and feet. Try not to show off affection too much in public. In big cities as Yangon, to get the staff's attention, people usually make a kissing sound to call for service. It's great to start a conversation with the phrase "where are you going". However, it's better to learn the Burmese language such as "mingalabar" which is widely appreciated. Due to the culture highly appreciates religion, visitors should dress conservatively such as shirts cover shoulders and pants cover knees. Topless and nude is completely unacceptable even in case of sunbathing. Remember to take off shoes, socks, and hats before entering local's houses, temples, and religious sites.
Some rules of etiquette when visit temples and pagodas in Myanmar
Dress conservatively and behave respectively in most mainland of Myanmar that there are a plenty of religious sites across the country. Shorts and tank tops are banned, cover your shoulders and knees unless you want to receive brow-knitting. If you cannot stand in long pants or jeans under the heavy sunshine of Myanmar, make sure that your dress is longer than knees. When enter pagodas and monasteries, leave your shoes outside and hold your hat in hands. Praying in front of Buddha statues, you should put your feet to the side instead of leg-crossing, and never point at Buddha.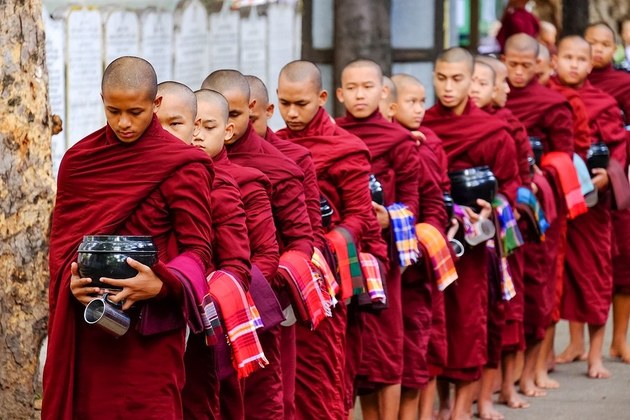 Especially, women in Myanmar are banned from many things. They are not accepted to touch and sit at the same line with monks. If they want to receive anything, they must use both two hands and cannot touch monk's hands. Respect the tradition giving of alms which is deeply rooted in Myanmar culture. However, the things you should give are clothing, food, not money and cigarettes. If you want to take photos of nuns and monks, be polite and show your respect, avoid inappropriate conversation.
Typical Costs for Myanmar Tours
Accommodation in Myanmar
To travel budget in Myanmar, overnight at a dorm bed is a smart ideal with the price is around $20-$30. For a more private space, a room with en-suite starts from $35 for a single bed. In most tourism developing cities such as Yangon, Bagan, Mandalay, expect the cost of around $75 for a night in a modern hotel. Booking accommodation through some agencies can save your cost that they usually offer discount prices. The price for accommodation in popular "package tourist" places such as Ngapali beach can be much higher. A double room in 2-star hotel is around $100. Staying in hotels usually coming with free breakfast.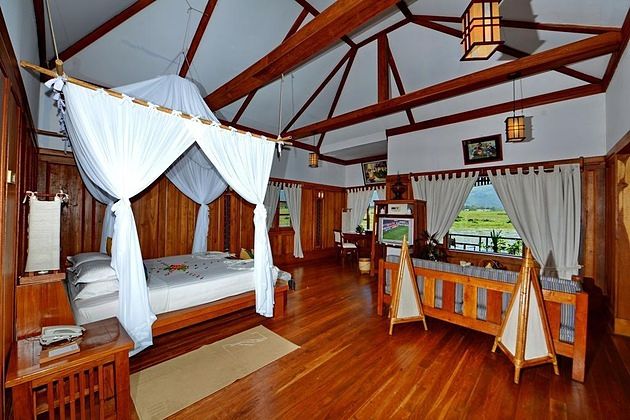 Food in Myanmar shore excursions
Myanmar has just opened for trading and foreign affairs for several years. That's why visitors can catch a small number of English-speaking locals throughout the country. It can make everything more difficult to order food. The unique cuisine of Myanmar is not familiar to Western or American tourists and cruisers hopping on Myanmar shore excursions, however, it is really good and has many choices to order. You sometimes don't know what you eat, but it is still delicious. The price for Myanmar food usually changes depending on season with no fixed price for visitors. The most famous dish is Shan Noodles can cost around $0.5 to $2. Burmese cuisine is a little oily but still very good. It's not spicy as Thailand cuisine and sweet as Indian food, it's more likely Southeast Asia flavors.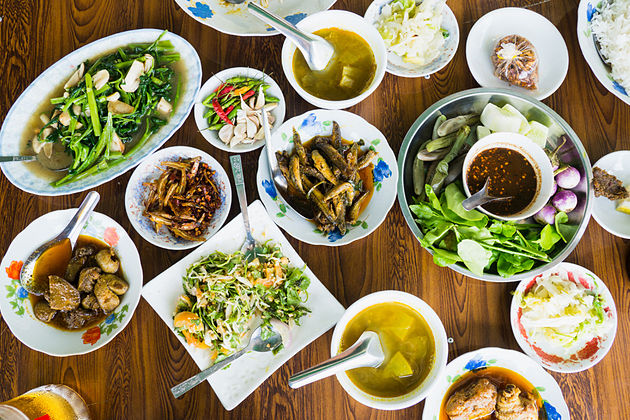 Transportation in Myanmar
For overall, transportation in Myanmar is quite cheap and effective. The most common vehicle is bus which exists in everywhere serving as the main form of transportation to get around all areas of the country if permitted. Expect to pay from 5,000 to 30,000 kyat for a ticket depending on how far you go. Avoid using taxi as much as possible. Taxies in Myanmar don't be counted with meters or have a fixed price, everything depends on the way you deal with driver (but most of them don't understand English). Taxi is only suitable when you head to and leave the airport. A drive around Yangon can cost around $20 to $30.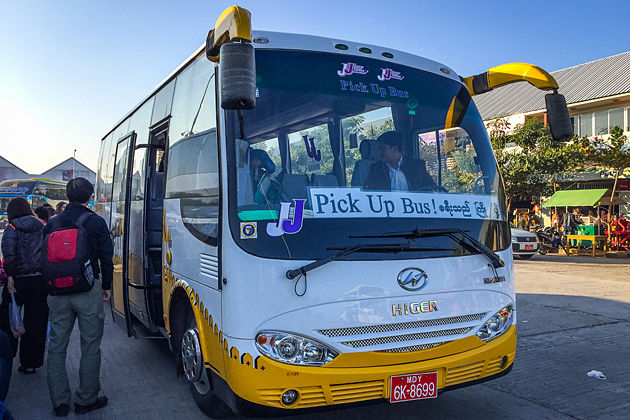 Some Tips for Myanmar Shore Excursions
Getting off the beaten path is difficult
Even in Myanmar shore excursions to developing areas, getting out of the road to discover a more pristine one is nearly impossible in Myanmar. They have just built some modern ways, and you have to stick to these unless you want to spend hours trying to access the attractions. Moreover, the price of taxi can rise to the unbelievable level.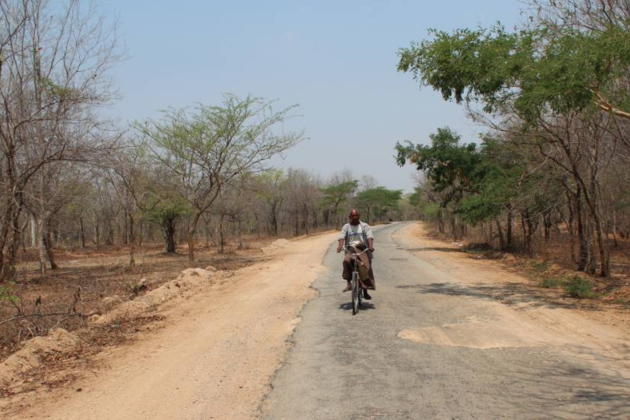 Remember to pack conservative clothes
Myanmar is the country of temples, pagodas, and many other religious sites. Any sightseeing tour over big cities such as Yangon, Bagan, and Mandalay always cover these attractions. Conservative clothes are recommended, especially pants covering knees and shirt over shoulders. When enter temples, visitors have to go on barefoot even though animal feces existing everywhere.
Respect Myanmar worship
Respect local's worship is the best way to get familiar with the new culture. These religious sites are the places for worshipping instead of serving for tourism. Follow the signs and maintain the peaceful silence when people are praying.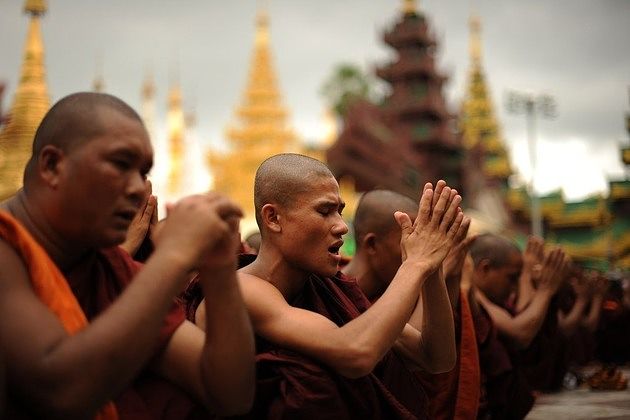 Tourist tax
To visit Bagan and Inle Lake, foreign visitors have to pay for an entry fee. The fee for entering Bagan is $20 and for Inle Lake is $10. Booking Myanmar shore excursions with us always include this tax.
Get familiar with the heat in Myanmar shore excursions
The unbearable heat in Myanmar has covered the country all year round. There is no place you can hide. The mid-day heat is crazy, you should avoid it. A sightseeing Bagan shore excursions in the peak of summertime can be an extremely bad experience under the heavy sunshine. To survive, staying indoors or only taking the tour in sunsets and sunrises.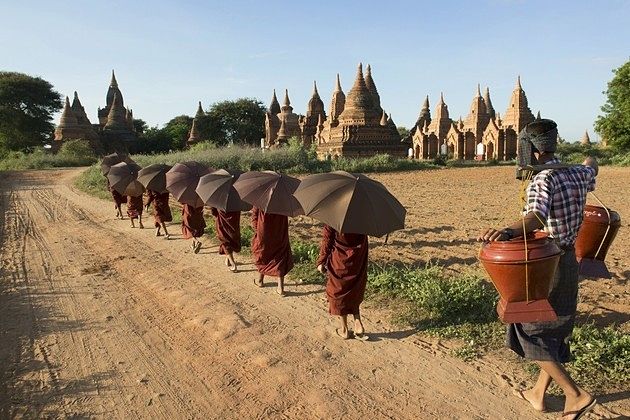 Crazy traffic in Myanmar
The pavement in Myanmar is not for people to walk in, it serves as a special road for parking motorbikes and delivery pallets. Get used to walking on the side of the road and don't startle at beep sounds everywhere "for awareness". Many visitors and cruisers from Myanmar shore excursions are shocked when crossing the roads or stepping out into a stream of traffic.