Experience the best of Yangon in this incredible private day trip! Marvel at the spectacular architecture and impressive craftsmanship of sacred stupas, such as Sule, Chauk Htat Gyi, Botataung, and particularly the iconic Shwedagon Pagoda. Visit the National Museum and Bogyoke for more insights into the country's history, heritage and culture.
Meet your private guide and savvy driver upon pickup from Thiwala cruise terminal before driving to Yangon. Firstly, visit Sule Pagoda, which is claimed to enshrine one of eight Buddha's hairs. Its gilded dome is topped with a golden spire reaching far into the skyline of downtown Yangon.
Then stop at Chauk Htat Gyi Pagoda, which houses a magnificent 65m-long reclining Buddha donning a crown encrusted with diamonds and gems.
Follow your guide downtown to discover British colonial buildings. Marvel at the old charms of magnificent colonial architecture as you stroll through the City Hall, Inland Water Transport Building, Custom House, and the Stand Hotel – one of Southeast Asia's historic colonial hotels.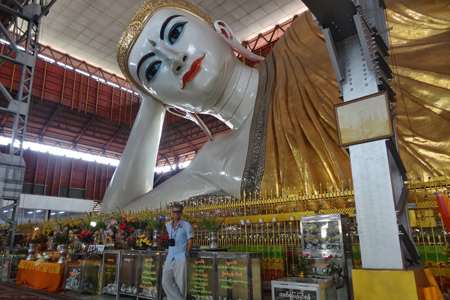 After lunch in a local restaurant, continue to visit Bogyoke Aung San Market, which is well known for its large selections of gemstones and longyi (Burmese traditional costumes). Expect to find rare antiques, traditional handicrafts, clothes, and regional dishes for sale there.
Next up is Botahtaung Pagoda (or the Pagoda of thousand military leaders), a prominent landmark located on Yangon's waterfront. Housed inside the pagoda is a collection of relics of Buddha transported from India over two thousand years ago by these military leaders.
Afterwards, travel northwest to visit National Museum. Its main treasure – the impressive gem-encrusted Lion Throne that belonged to the last king of Myanmar – makes up for the inadequately labeled and lit exhibitions. See the ostentatious lifestyle of the old kings as you stroll through the display of lavish beds, gold rugs, ivory kitchen chairs, and embellished ceremonial attires.
Finish the trip with a visit to Shwedagon Pagoda, located atop of a hill. Start from the foot of the hill, and follow your guide on a long entrance stairway to the main terrace, passing by various markets, worships, and monasteries. Learn about the daily life of local dwellers in the immediate vicinity and Burmese Buddhism as you visit the monks. If you don't want to climb, elevators and escalators are also available. As you come up from the covered walkway, marvel at the glittering marbled main terrace, dotted with holy worship halls and pavilions. Take off your shoes before venturing deep inside to listen to your guide introducing about Myanmar spiritual beliefs.