Many Koh Samui shore excursions include a visit to Secret Buddha Garden, the hidden gems are located on the hill of Koh Samui's interior. In 1976, at his age of 77, Nim Thongsuk –a Samui fruit farmer started building a mystical garden in his family's verdant land.
The Secret Garden is an excellent creation of Khun Nim, featuring exotic flowers and trees and a usual collection of Buddha statues. Each statue depicts an animal, deity or a man in different shapes and poses amid lush jungle surrounds.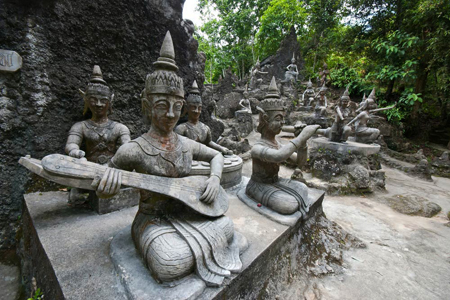 Especially, a statue of Khun Nim himself, in a relaxed position sitting on a rock, can be seen here. An informative guide will be very helpful as he/she explain to you the meaning of these statues. Stroll through the beautiful garden, you will see a little stream and a series of miniature waterfalls. Moreover, along the way leading to the Secret Garden, there are some viewpoints which offer a significant panoramic view of Koh Samui's south side. To get the Secret Garden, the only way is joining a trip through the jungle by an off-road 4WD jeep.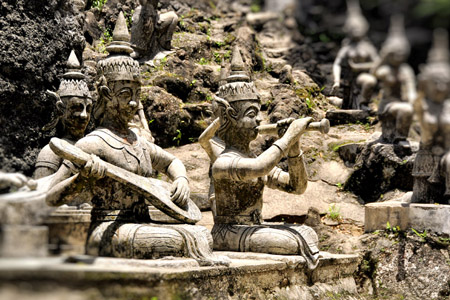 Visiting the Secret Garden is you are getting lost between the statues of all shapes and sizes scattered around the grounds.