Spend a day hop on the Happy Boat to the three most special islands in Sihanoukville shore excursions. From Koh Rong and Kok Kon to Kong Rong Samleom, experience the beautiful beaches with various water sports including go snorkeling, scuba diving, go fishing, or just lay on the beach and enjoy the sunshine.
In the morning, start your trip to 3 islands with a pick up at port by guide and driver. Hop on the Happy Boat, depart to Koh Rong Island, and boost your energy with a light breakfast while relishing traditional music and dance performed by local artists. Upon arrive at Koh Rong, enjoy your free time soaking in the fresh water, swimming, and snorkeling. Admire stunning sunshine jumping on white sand pattern surrounding by lush green scenery.
Kindly Note: The Happy Boat just departs at 9:00 am.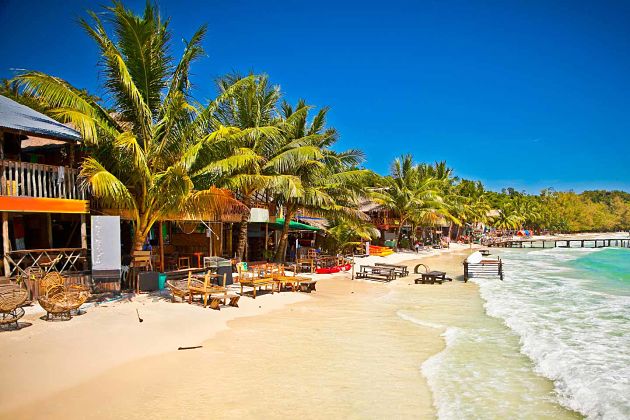 Another option for you is to visit the local Koh Touch Village. Besides the beaches lined up by sleepless bars, clubs, restaurants, and bungalows, Koh Touch is also a fantastic quiet and friendly place. Witness how locals live their daily life on this pristine island and enjoy your lunch on the boat with fresh-caught seafood.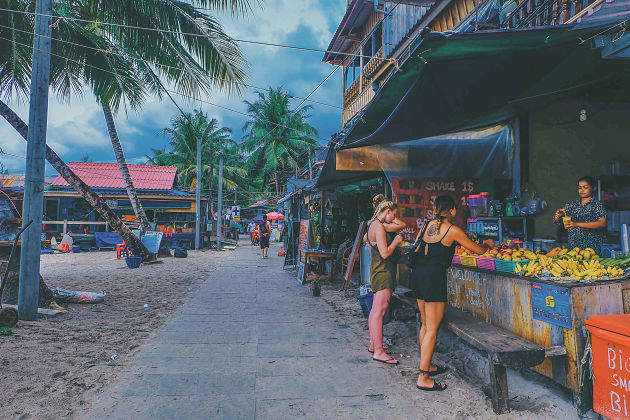 Before heading to Kong Rong Samloem, visit the tiny island Koh Kon which has the west characterized by rocks going down to the sea, and the east is home to shallow coral reefs, electric blue-spotted stingrays, moray eels, bamboo, and catsharks. Visit Kong Rong Samleom, stop at Rumi Resort pier for a free time hitting the beach or just lay your hair down at Rumi Restaurant. The trip ends with a drive back to port.