Spend 3 days to explore all the quintessence of Sihanoukville and Angkor Wat in Siem Reap. From beautiful beaches, go deeper into the mainland to witness the splendid World Wonder – Angkor Wat. Step by step discovers this holy land while learning about the old culture dating back to the Khmer period.
Tour Itinerary
Day 1: Sihanoukville – Siem Riep by flight (L)
Day 2: Sunrise, Explore the Temple Complex (B, L, D)
Day 3: Siem Riep, Banteay Srei & Angkor Wat – Fly to Ho Chi Minh – Transfer to port (B, L)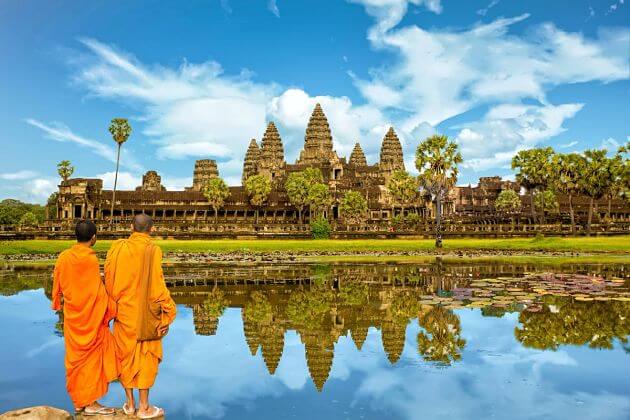 Day 1: Sihanoukville – Siem Reap by flight (L)
Meet your guide and driver at the port and transfer to Independence Beach with Wat Kraom, or widely known as Lower Wat. After that, head to Kampign Chas Primary School to witness local children daily life. On the way to Phsar Leu market where is home to dozens of street vendors selling seafood, fruits, clothing, jewelry…, you will take a photo-stop at Golden Lion II – the symbol of Sihanouk Ville. Get a glimpse of Khmer trading activities to understand their unique culture.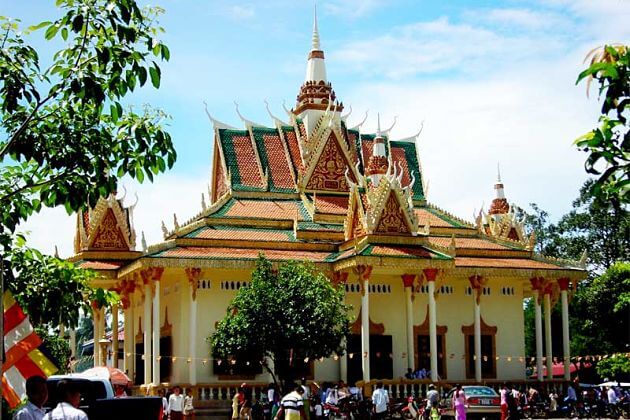 After having lunch at a local restaurant, head to Kbal Chhay Waterfalls, a worth-visit site with an impressive height of 14 meters. When your guide tells you about its historical past, try not to be disturbed that natural beauty will definitely lure you away. In the evening, hop on a 50-minute evening flight to Siem Reap. Overnight at hotel in Siem Reap.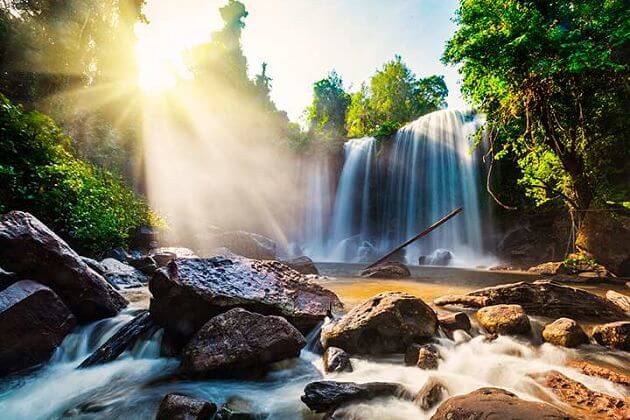 Day 2: Sunrise & Explore Angkor Wat Complex (B, L, D)
Start this new day with a visit to Preah Khan, one of the most iconic buildings built during the ancient Khmer period. Surrounded by dense jungle, the structure has a rectangular shape and is protected by a massive moat and fortified walls. Enjoy your breakfast packed from hotel, head to Ta Prohm which famous for its ancient ruins. Then, visit Angkor National Museum where exhibits Khmer artifacts and ancient objects. Continue on to Angkor Thom – the last capital of the Khmer Empire. Admire wooden structures and temples inside the city walls including Bayon, Phimeanakas, Baphuon, Terrace of the Elephants, Terrace of the Leper King, and so on.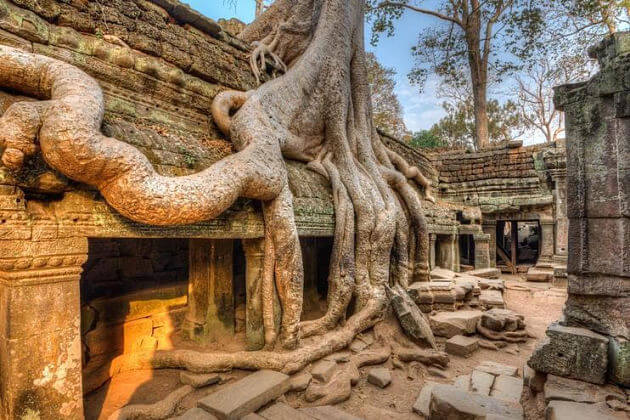 Explore Angkor Thom little by little from Terraces of Elephant and the Leper Kings to Baphuon Temple which originally worshiped the Hindu God Shiva. Don't miss the most popular attraction, Bayon Temple shines with over 200 massive stone faces carved into temple gates and towers. In the late afternoon, transfer to Apsara Dance Performance show and enjoy your dinner at Kannel Restaurant. Overnight in Siem Reap.
Note: Lunch Served at Angkor Café Restaurant & Dinner Show Served at Kannel Restaurant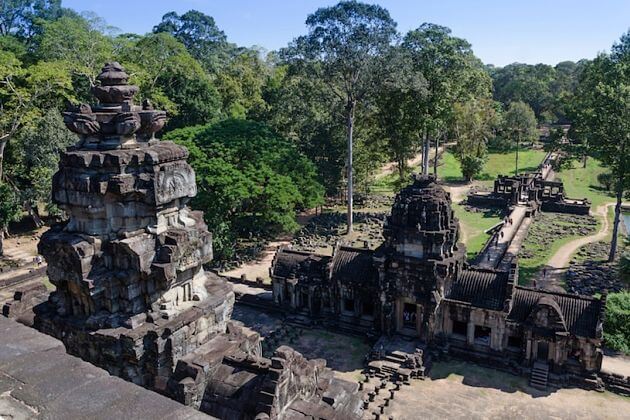 Day 3: Siem Reap, Banteay Srei & Angkor Wat – Fly to Ho Chi Minh – Transfer to port (B, L)
After enjoying your breakfast at the hotel, your guide and driver will transfer you to Banteay Srei. Not only is a holy land with an important meaning, but Banteay Srei is also one of the most priceless jewels in the treasure box of Cambodia. Witness some finest stone carving on Earth before heading to Banteay Samre Temple. Get the first step to understanding Hindu culture by many mythological stories and Buddhist teachings carved into temple walls. On the way back, stop for a while at a traditional village where local people make products from sugar palm. Take a sit and enjoy a glass of sweet sugar palm juice.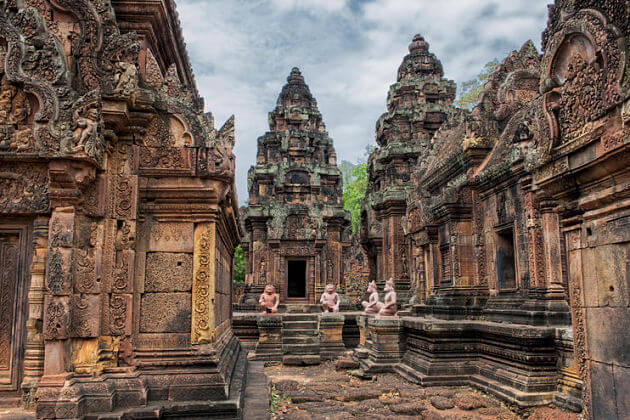 In the afternoon, we visit the main destination of this shore excursion, Angkor Wat. Being the symbol of Cambodia, Angkor Wat is a true wonder unsurpassed in its scale, proportion, and spirituality. Thanks to its important meaning and role in the old Khmer Kingdom, the main temple is protected by a huge artificial moat surrounding. Upon arrive at the entrance, ready to be mesmerized by apsaras, or known as heavenly nymphs carved into walls. Take a stroll along and get a glimpse of an Ancient Wonder of the World. In the evening, head to the airport for departure flight to Ho Chi Minh City. Say goodbye to your guide and driver when they transfer you to Phu My port. Trip ends.