Explore the ancient charms of Angkor on this fascinating 2-day sightseeing tour from Siem Reap. Step in the magical atmosphere of Angkor Wat, marvel at the mysterious faces of Bayon temple, delve into the tranquility of Preah Khan, and enjoy spectacular sunset views with a bottle of champagne at Prasat Chroung. If your next destination is Ho Chi Minh City, please contact us to arrange a direct flight from Siem Reap to Saigon where you'll board the cruise again.
Day 1: Sihanoukville – Siem Reap by flight (D)
After pickup from the Sihanoukville Autonomous Port, you'll be taken to the airport for a 50-minute afternoon flight to Siem Reap. Upon arrival, meet your private driver and guide who'll bring you to the Angkor Wat Temple, a true wonder unrivaled in its scale, symmetry, and spirituality. Surrounded by a gigantic man-made moat, Angkor Wat is an architectural symbol of the Hindu world and an ultimate representation of Khmer god-kings' creative aspiration.
Check out the enchanting apsaras (heavenly nymphs) that are carved into the walls, each of them different from the rest. Many of apsaras are being restored after chemical damages inflicted upon by Indians in the 1980s. Wander through the labyrinth of covered galleries, courtyards, and hallways as your guide explains the history behind these spectacular monuments. Enjoy sensational sunset views at Prasat Chroung by the wall of Angkor Thom with a bottle of champagne and a good selection of exotic tropical fruits. Afterwards, travel across the ancient moat aboard the royal boat. In the evening, get entertained by the Apsara Performance which depicts Khmer mythology, followed by a drop-off at your hotel. Overnight in Siem Reap.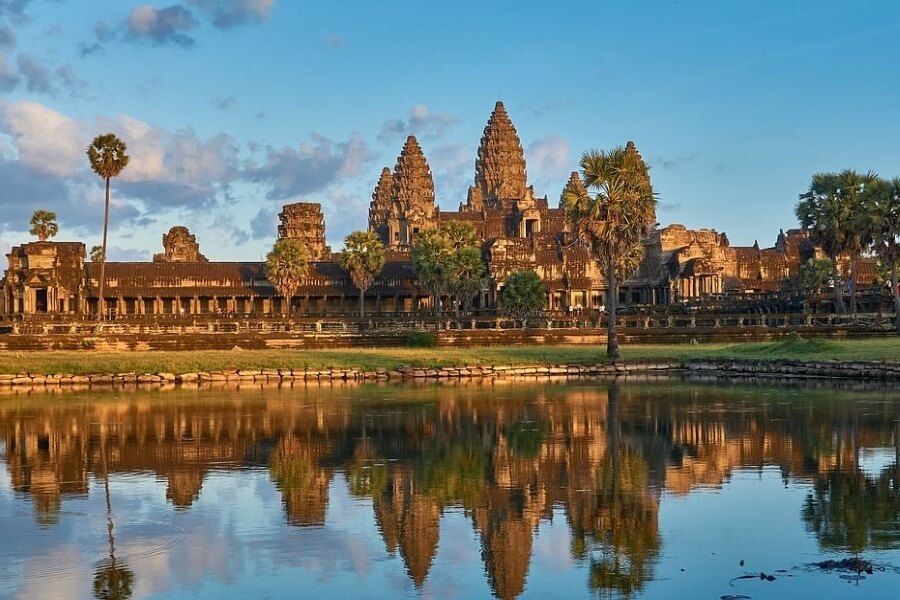 Day 2: Explore the Temple Complex – Sihanoukville (B, L)
Start the day early with a hotel pickup by your guide. Then, visit Preah Khan, the largest temple complex built during Angkorian period. Not to be mistaken for a temple of the same name at Angkor, Preah Khan offers unexpectedly serene atmosphere – you can hear the birds singing and monkeys climbing trees.
After a picnic breakfast at the temple, continue on to Temple of Tah Prohm, where strangler figs are intertwined and tangled with ancient ruins, before heading to the Angkor National Museum. Then explore Angkor Thom, the last capital of the Khmer Empire. Entering from the west entrance, you'll be greeted with four faces of Buddha and flanking statues of gods and demons.
Follow your guide to Terraces of Elephant and the Leper Kings, then onto the Baphuon Temple, a Buddhist temple that once worshiped the Hindu god Shiva. Complete the tour with a visit to the main temple of Bayon, which features 216 massive smiling stone faces on the many towers clustering around a central peak. Afterwards, return to the airport for a flight back to Sihanoukville in the late afternoon, and then to the port for your cruise departure. Trip ends.