Experience the best of Sihanoukville in this informative private day trip. Delve into the local culture and lifestyle when you visit Wat Kraom, Kampign Chhas Primary School, and a Cambodian traditional house. Complete the tour with a stop at Kbal Chhay Waterfalls to cool yourself off. If you'd like to make a day tour to Phnom Penh, please contact us to adjust your itinerary accordingly.
After pickup from the Sihanoukville Autonomous Port by your private driver and savvy guide, head to the Independence Beach and visit the nearby Wat Kraom (Lower Wat), a sacred temple sitting at the foot of Sihanoukville Mountain. Then visit a Cambodia Traditional House constructed in ancient Khmer architectural style and later on, Kampign Chhas Primary School where you can interact with lovely local children. Gain insights into the local culture and people from your first-hand observation and commentary by your guide. On the way, we stop to take a photo at the symbol of Sihanouk Ville, Golden Lion II. Next, continue visit to Phsar Leu Local market, It is the main market in Sihanoukville. Featuring sections which provide fruits, seafood, clothing, tailors, jewelry, khmer food, and a lot of many other goods. Enjoy the sights, sounds and smells of this typically busy local market. Get an insight in the daily Khmer life.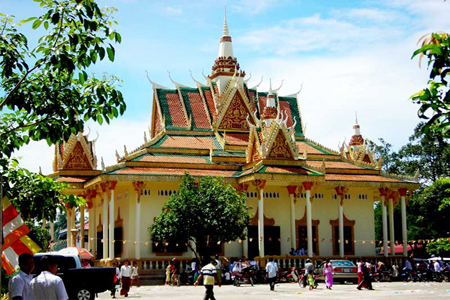 After a scrumptious lunch, continue the journey with a visit to Kbal Chhay Waterfalls, standing at the height of 14 meters. Water cascades down from several sources along the mountain ranges, but only three of which are visible. Listen to your guide about its historic past. Once a reservoir, Kbal Chhay quickly became the hideout for Khmer Rouge army during the civil war. End your trip with the return transfer to the port for your cruise departure.