Delve into the historic past of Jakarta as you take a leisurely walk through the quaint streets of Old Town, Chinatown and later onto Sunda Kelapa Harbour. Soak in the rich culture and diverseness of Indonesia at the National Museum with spectacular collections of architecture and heritage on display.
Meet your private driver and guide upon pickup from the Jakarta port. Start the tour at Jakarta Old Town, where you can meander along the main road and see Dutch colonial buildings scattered along the way. Next, take to the narrow alleys of the Chinatown in Glodok to visit the Temple of Petak Sembilan (Nine Blocks), passing by busy markets, herb stores, and tantalizing food stalls.  Head north to visit Sunda Kelapa Harbour, which features a range of Buganese Phinisi Schooners.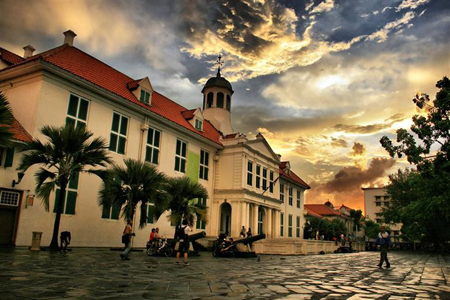 Visit the National Museum where you'll see several well-presented collections of artifacts dating back to Indonesian pre-history. Head to Tama Mini Indonesia Indah (or Beautiful Indonesia in Miniature Park) and learn about the amazing diversity of the Indonesian archipelago. Dotted throughout the park are pavilions representing different provinces, from the architectural style to exhibits on cultural heritage. You'll leave the place with much more appreciation of the country's harmonious unity despite the geographical separation. Also housed within the park are the Museum of Indonesia, Bird Park and Keong Maas Imax Theater. During the entire trip, you'll also drive past to the Presidential Palace and the Cathedral. End the trip with return transport to the port.