Colombo Shore Excursions, Day Tris & Tours for Cruise Ship Passengers
Colombo serves as a cosmopolitan and gateway to the wonders of Sri Lanka. This city is a melting pot lined up by lights from stunning hotels, old-fashion red-tiled buildings, ancient churches, and mosques. Moreover, its rich culture also revealed in bustling local markets full of colorful spices, priceless silks, and fresh tropical fruits. Immerse yourself in the peaceful scenery, Colombo shore excursions let you explore the highlights of the city.
Starting by an exhilarating tuk-tuk ride to various iconic attractions such as Fort Station, Red Mosque, Khan clock tower, Pettah Bazaar, and so on. Then, feast on the hustle beaches, enjoy whale-watching tours, tea plantations, and elephant safaris. At the first sight of your Colombo shore excursions, you can witness the sight of many tuk-tuks go around modern skyscrapers. After that, explore little by little old colonial architecture-style structures, energetic street markets, and Buddhist temples.
Asia Shore Excursions delivers a collection of Colombo shore excursions to Sri Lanka. Each shore excursion has its own highlights enriched with cultural and historical values. Take a look at our ready-made itineraries for Colombo day tours from Colombo cruise port, Sri Lanka. If you want to customize a unique Colombo shore excursion, feel free to contact us and let our experts do their works.
Port Departure:     09:00 (1st day)
Port Return:          18:00 (2nd day)
Duration: 2 days
Pick-up/Drop-off: Colombo port/Colombo port
Highlights: Millennium Elephant Foundation - Spice Garden - Temple of the Tooth Relic - Royal Botanical Gardens - Giragama Tea Factory
Tour Customizable: Absolutely! (Tell us your specific requirements in the inquiry form)
---
Top 5 Things to Do & See in Colombo Shore Excursions
Even you are a culture opportunist or a beach-lover, Colombo has dozens of wonderful attractions to explore. Become more and more popular in the traveling map of the world, Sri Lanka's tourism industry grows up with plenty of different itineraries around the country. On Colombo shore excursions, hundreds of activities you can enjoy from trekking through historic mountains, discover ancient ruins, soak in beautiful beaches, be mesmerizing by endless lush green tea plantations, and get closer with leopards and wildlife safari in various national parks. Below are the best 5 things to do and see in Colombo.
Climb the Historical Monument Sigiriya
Was formerly a hidden world on the huge rock, Sigiriya is an ancient fortress dated back to the 5th century AD located in the top of the 370-meter rock. It served as a royal palace and Buddhist monastery with significant relics and ancient monuments. Thanks to its important meaning in the history aspect of Sri Lanka, Sigiriya is one of seven World Heritage Sites in this country. The monument's name originates from the word meaning lion that its entrance is stone-made huge lion claws. The rock was magically formed from the magma of an extinct volcano providing a spectacular view over the forest surrounding.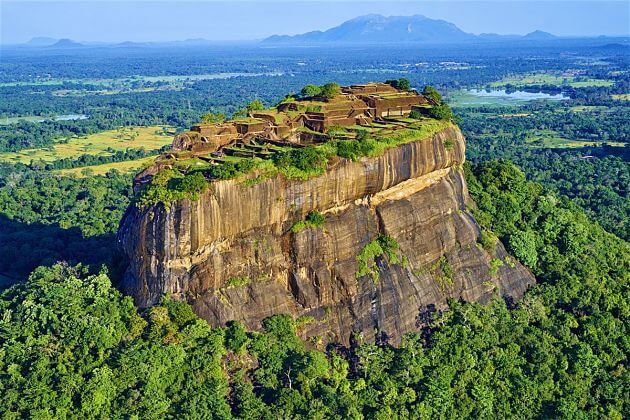 Meet Gigantic Friends - Elephants
Elephants are worth to be called as the national animal. These huge friends can be met everywhere in Colombo from helping farmers on tea plantations, freely inhabiting in the forest, wildly walking in various national parks, or leading the Esala Peraha parade in cultural towns of Kandy. There are dozens of elephant orphanages around the country that you can visit in Sri Lanka shore excursions. Millennium Elephant Foundation is one of the most popular which provides the service of walking with elephants instead of bullying them by riding on their backs.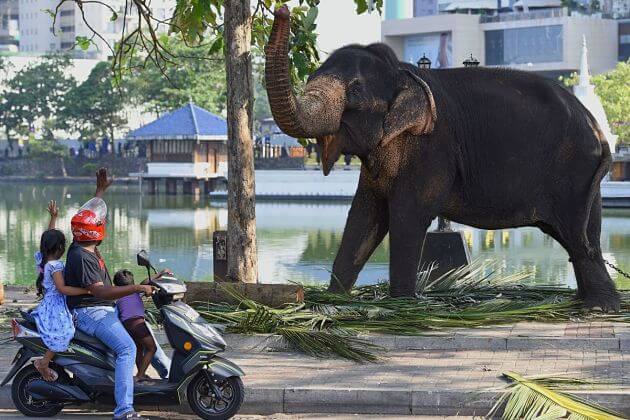 Marvel at Tea Plantations in Colombo
Not only Colombo, but all provinces in Sri Lanka are also the land of green tea creating this country to be one of the most important tea producers in the world. Dotting the landscape of Colombo are various hills covered with endless lush tea plantations. Since the mid-19th century, local people moved on to plant tea instead of coffee which are heavily damaged by diseases these years. Many Colombo shore excursion itineraries include a visit to tea plantations. Admire local's deft hands quickly collect tea puckers into a crate on their back. Then, visit tea factories for observing the process tea leaves and buds become black tea packages which are selling worldwide.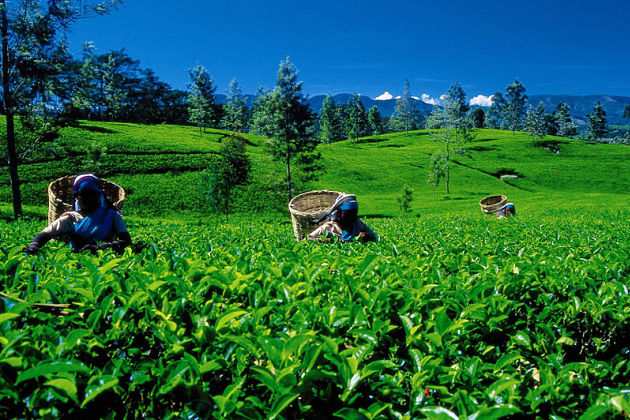 Admire Stilt Fishermen in Galle Fort
Stilt fishermen on the coastline of Galle are the iconic image of Sri Lanka, especially during sunset and sunrise. This catching fish method has a long history but almost not change anything from the beginning. Nowadays, it is rather a local's performance for tourists than aiming to catch fish. Not hyperbole effect to claim that visitor's curiosity saving this traditional fishing method. From Colombo port drive to the coastline of Galle, witness local fishermen seat on a stilt holding a fishing rod and waiting for a little vibration sign of fish biting.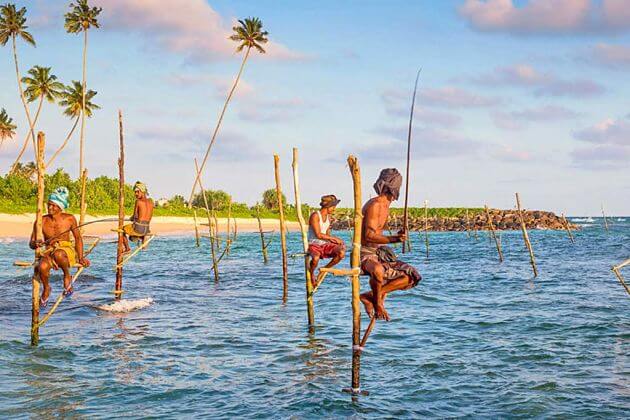 Visit Gangarama Seema Malaka Temple
No Colombo city excursion can miss a visit to this significant religious site, Gangarama Seema Malaka Temple. Located in the middle of Beira Lake surrounded by beautifully emerald water and fine old trees, the temple is a serene respite contrasting with the messy and chaotic Colombo city. Designed by the most famous architect of Sri Lanka, the temple marks with the minimalist architecture revealed in blue-tiled-roof halls located on three floating platforms. The highlight of this site is a coral-white enclosure with various bronze Buddha statues viewing to the lake.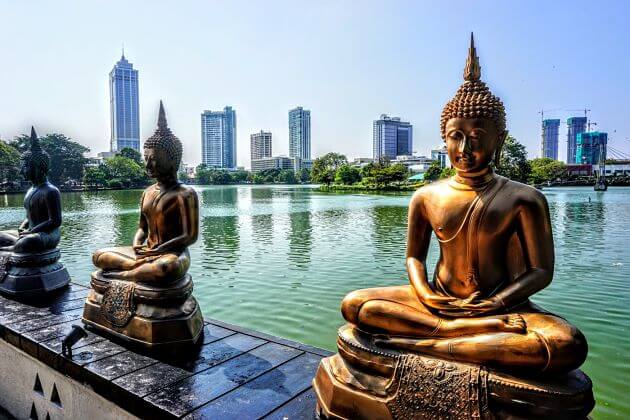 Best Time to Visit Colombo
Planning a Colombo shore excursion can include numerous questions. Where to visit? What to bring? And when to go? Choosing the right time to visit is an important point to make your trip become unforgettable in a good way. The best time to visit Colombo is from January to March which is the dry season with lack of rain, cool temperature, and low humidity. In the rest time of the year, this city is covered by occasional rains. However, the ideal time to visit also depends on the areas you are planning to visit, especially the Western South coast and the highland have northeast monsoon with the best time to visit is between November and February. Below is the detailed weather of Colombo by seasons.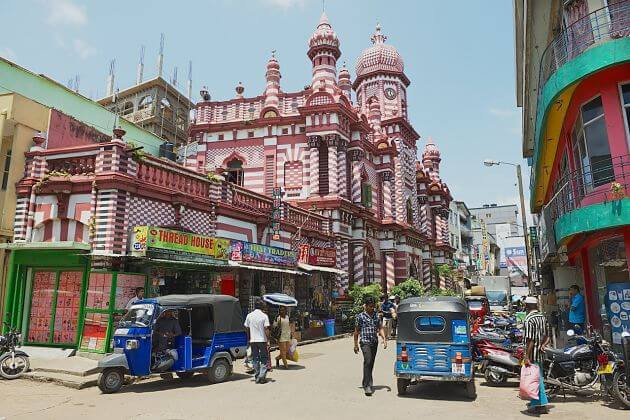 Summer Season in Colombo
Colombo experiences summer season from March to the end of April. Most of the time during summer, this city experiences a moderate temperature except April when the heat reaches its peak. Due to being dominated by the dry and hot weather, April is not a good time to enjoy Colombo shore excursions. When walking to May, the weather is still hot but dotted with humidity days. However, the low prices and lack of crowds still attract visitors coming to explore the city.
Monsoon Season in Colombo
The summer passes by and replaced by the monsoon season lasting from May to August. During this time, the southwest and western coasts are covered by heavy rainfalls that visiting these regions is not a good idea. Rainfall will gradually decrease till the end of August with occasional rains. The average temperature is around 28 degrees which are cool for Colombo sightseeing tours, however, the thunderstorms and heavy rains prevent visitors from outdoor activities and visiting attractions in the city. Commonly, travelers do not choose this time to come to Colombo.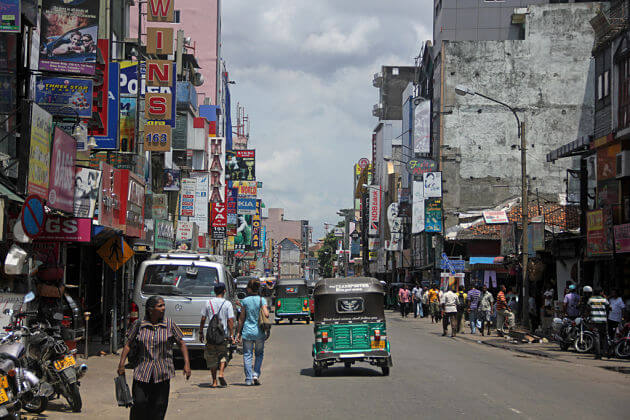 Winter Season in Colombo
The winter season is the best time to enjoy Colombo shore excursions which run from November to February. With lack of rainfalls but cool temperature, every activity can be tasted well from visiting historical sites to climbing the mountains and tea plantations. Beaches are also more beautiful with calm waves and clear water. This season is the peak time of tourism and also local trading enriched with fantastic nightlife. Although the humidity level is low most of the time, Colombo can meet some frequent rains in December.